Biting Bed Bugs How To Get Rid Of
How to Get Rid of Bed Bug Scars and Bites
Dealing with nasty bed bug bites is a serious nuisance.While some people hardly notice bed bug bites, others end up with irritable stingy rashes and scars which leave them wondering how to get rid of bed bug scars and bites.
Bed Bug Bites Allergies
Unlike the majority of biting bugs, bed bugs don't transmit any diseases when they bite.However, because of excessive scratching and itching, bed bug bites can lead to a skin infection around the area of the bite.
In some cases bed bug bites can flare-up allergies such as eczema.Other symptoms include a burning sensation at the site of the bite, painful swelling, and engorged bite marks.
Bed bug marks can also have psychological effects. Apart from experiencing phantom bites, some may experience insomnia and anxiety.
How do you know it is a bed bug mark?
Bed bug bites are quite similar to other insects such as chigger bites, this makes it can be quite difficult to identify the bites. However, there are a few signs that can help identify if the bite is a bed bug or not.
The first sign you must look for is the pattern of the bites. Most commonly, bed bugs bite in clusters or rows. So, if you have a single bite then the chances of it being a bed bug are quite low – most likely a spider bite. In most instances, bites occur in a zigzag or a straight line pattern. Bed bugs are most likely to bite your exposed body parts such as the arms, legs, shoulders, face, neck, and hands.
Usually, bites look like raised or flat areas that can become blistered, red, itchy, or inflamed. Registering when the bite occurs can also help identify a bed bug mark. Of course, this is hard to figure out because the reaction time of people to the bite is different. Some people tend to react much faster than others do. Bed bug bites can show up on your body just after a few hours; however, even a week can pass before you see it. A few people don't react to a bed bug bite at all, but the mark can be seen.
To be completely sure that the bites are from bed bugs, you must look for signs of bed bugs in your bed:
If there are tiny, red blood spots on the sheet, then they might be from squashed bugs or spots of your own blood from the bed bug bites.
Search the mattress for feces, skin, and sleeping or dead bed bugs.
They will be roaming all around the mattress and will be residing at the seams as well.
How does a bed bug bite cause a scar?
Bed bug bites themselves do not leave any scars. The scratching action performed with dirty and sharp fingernails is responsible for the scarring. Since bed bugs tend to bite at night when one is sleep, it's impossible to have control over the urge to scratch.
Scratching the bite can cause rashes as well as form pus and secondary skin infections. Even if a few days have passed after the initial bite, your skin can still experience an itch. While scratching the site where a bed bug bit, a person might remove the scab forming while the skin heals. As a result, a scar is formed.
How To Get Rid Of Bed Bug Scars And Bites
Similar to tick bites, to treat a bed bug bite you must first wash the affected area using water and a mild antiseptic soap. This reduces the itching and prevents the bite from leading to a skin infection. Then, you can try out one of the following home remedies to reduce the bite marks:
Home Remedies
To use the baking soda remedy, you must make a mixture with 3 teaspoons of water and one teaspoon of soda. Then, apply it generously to the area where you have been bitten. Let the mixture stay on for at least 10 minutes before washing it off. If the bite still causes any discomfort, you can repeat the process after an hour.
To apply lemon juice, take a cotton ball and dip it in the juice. Then, gently dab it on the bite. After the juice air dries, rinse the bite site. The process should be repeated several times a day. It is important to know that lemon juice might make the skin more susceptible to sunburn. So, make sure that after using this remedy, you don't go under the sun for a couple of hours.
For this remedy, you must take an Aloe Vera leaf, rinse it, and then slit it open. Then, scoop out all the gel and apply part of it to the bite. Store the leftover gel in the fridge and apply it a few times a day for at least two to three days.
On the affected area, you must apply raw, unfiltered vinegar. Let it dry out and then wash your skin. If the symptoms remain, you can apply apple cider vinegar once more after some hours.
*NOTE: Please consult a Doctor*
A wide range of anti-inflammatory pills can also help reduce pain from bites, bite marks, and scars.This topical anesthetic that contains pramoxine can significantly reduce the pain. Meanwhile, antihistamines like Benadryl can reduce the swelling of the bite. Alternatively, you can also use pain relievers that contain naproxen or ibuprofen.
How to get rid of bed bugs?
1. Bed bug sprays
If you have only spotted one or two bedbugs, then you can use any of the numerous bed bug sprays available on the market. However, for an infestation, this is the least effective option.
2. Deep cleaning and encasements
Clean all of the clothing, curtains, linens, and beddings in hot water. Then, dry them all on the highest setting available on your dryer. Other items that can't be washed such as shoes and stuffed animals must be placed in the dryer on the highest setting for around thirty minutes.
With a stiff brush, scrub the seams of the mattress to get rid of the eggs and the bedbugs before vacuuming.
Encase the box springs and the mattress using a bed bug zippered cover, so that the bed bugs can't enter or escape. Remember that bed bugs can survive for up to one year without food, so it is better to keep the mattress enclosed for at least a year to ensure that all the bugs die.
3. Extermination
Of course, cleaning up all of the infested areas is helpful for having control over the spread of bed bugs, but for getting rid of them completely often requires harsh chemicals. Thus, in the worse case scenarios, the most effective and safest method of getting rid bed bug infestations is to hire a professional bed bug exterminator.
How to get rid of bed bugs scars and bites – Wrapping It Up
As mentioned above, if you have a minor bed bug infestation and have been wondering about how to get rid of bed bug directly, feel free to follow these instructions.
This would also help you get rid of bed bugs and prevent their bites from forming into scars. These remedies can also offer relief if you're already dealing with bed bug bites.
Bedbugs
In this Article
In this Article
In this Article
Bedbugs are small, oval, brownish insects that live on the blood of animals or humans. Adult bedbugs have flat bodies about the size of an apple seed. After feeding, however, their bodies swell and are a reddish color.
Bedbugs do not fly, but they can move quickly over floors, walls, and ceilings. Female bedbugs may lay hundreds of eggs, each of which is about the size of a speck of dust, over a lifetime.
Immature bedbugs, called nymphs, shed their skins five times before reaching maturity and require a meal of blood before each shedding. Under favorable conditions the bugs can develop fully in as little as a month and produce three or more generations per year.
Although they are a nuisance, they are not thought to transmit diseases.
Where Bed Bugs Hide
Bedbugs may enter your home undetected through luggage, clothing, used beds and couches, and other items. Their flattened bodies make it possible for them to fit into tiny spaces, about the width of a credit card. Bedbugs do not have nests like ants or bees, but tend to live in groups in hiding places. Their initial hiding places are typically in mattresses, box springs, bed frames, and headboards where they have easy access to people to bite in the night.
Over time, however, they may scatter through the bedroom, moving into any crevice or protected location. They may also spread to nearby rooms or apartments.
Because bedbugs live solely on blood, having them in your home is not a sign of dirtiness. You are as likely to find them in immaculate homes and hotel rooms as in filthy ones.
When Bedbugs Bite
Bedbugs are active mainly at night and usually bite people while they are sleeping. They feed by piercing the skin and withdrawing blood through an elongated beak. The bugs feed from three to 10 minutes to become engorged and then crawl away unnoticed.
Most bedbug bites are painless at first, but later turn into itchy welts. Unlike flea bites that are mainly around the ankles, bedbug bites are on any area of skin exposed while sleeping. Also, the bites do not have a red spot in the center like flea bites do.
People who don't realize they have a bedbug infestation may attribute the itching and welts to other causes, such as mosquitoes. To confirm bedbug bites, you must find and identify the bugs themselves.
Continued
Signs of Infestation
If you wake up with itchy areas you didn't have when you went to sleep, you may have bedbugs, particularly if you got a used bed or other used furniture around the time the bites started. Other signs that you have bedbugs include:
Blood stains on your sheets or pillowcases
Dark or rusty spots of bedbug excrement on sheets and mattresses, bed clothes, and walls
Bedbug fecal spots, egg shells, or shed skins in areas where bedbugs hide
An offensive, musty odor from the bugs' scent glands
If you suspect an infestation, remove all bedding and check it carefully for signs of the bugs or their excrement. Remove the dust cover over the bottom of the box springs and examine the seams in the wood framing. Peel back the fabric where it is stapled to the wood frame.
Also, check the area around the bed, including inside books, telephones or radios, the edge of the carpet, and even in electrical outlets. Check your closet, because bedbugs can attach to clothing. If you are uncertain about signs of bedbugs, call an exterminator, who will know what to look for.
If you find signs of infestation, begin steps to get rid of the bugs and prevent their return.
Bedbug Treatments
Getting rid of bedbugs begins with cleaning up the places where bedbugs live. This should include the following:
Clean bedding, linens, curtains, and clothing in hot water and dry them on the highest dryer setting. Place stuffed animals, shoes, and other items that can't be washed in the dryer and run on high for 30 minutes.
Use a stiff brush to scrub mattress seams to remove bedbugs and their eggs before vacuuming.
Vacuum your bed and surrounding area frequently. After vacuuming, immediately place the vacuum cleaner bag in a plastic bag and place in garbage can outdoors.
Encase mattress and box springs with a tightly woven, zippered cover to keep bedbugs from entering or escaping. Bedbugs may live up to a year without feeding, so keep the cover on your mattress for at least a year to make sure all bugs in the mattress are dead.
Repair cracks in plaster and glue down peeling wallpaper to get rid of places bedbugs can hide.
Get rid of clutter around the bed.
If your mattress is infested, you may want to get rid of it and get a new one, but take care to rid the rest of your home of bedbugs or they will infest your new mattress.
Continued
Bedbug Extermination
While cleaning up infested areas will be helpful in controlling bedbugs, getting rid of them usually requires chemical treatments. Because treating your bed and bedroom with insecticides can be harmful, it is important to use products that can be used safely in bedrooms. Do not treat mattresses and bedding unless the label specifically says you can use them on bedding.
Generally it is safest and most effective to hire an experienced pest control professional for bedbug extermination.
Sources
University of Kentucky College of Agriculture: "Bed Bugs."
Ohio State University Extension Fact Sheet: "Bed Bugs."
The New York City Department of Heath and Mental Hygiene: "Stop Bed Bugs Safely."
University of Nebraska–Lincoln Extension Lancaster County: "Managing Bed Bugs."
How to get rid of bed bugs, what causes an infestation and how to treat bites – what you need to know
Bed bugs crawl out at night and feed on human blood after biting through exposed skin
18 Jun 2018, 15:55
Updated : 18 Jun 2018, 16:01
GETTING rid of bed bugs can be an unpleasant and tricky job which can often require the help of professionals.
But what can you do to tackle an infestation, how does it occur and how can you treat bites? Here's all you need to know.
What are bed bugs?
Bed bugs are small, blood-sucking insects that can be found in the joints of your mattress.
They crawl out at night and feed on human blood after biting through exposed skin.
Typically they are brown, dark yellow or red in colour, are flat and oval-shaped and are the size of an apple seed.
Although they aren't dangerous, they can cause extreme discomfort and stress to those who are bitten by them.
They can't jump or fly, but can crawl long distances, so can quickly spread throughout a building.
How can you spot a bed bug infestation?
Usually small, red bites on your skin will be one of the first indications that you have a bed bug problem in your house.
You can then spot further signs of small bugs, tiny white eggs in mattress crevices, or tiny black spots which could be their dried poo.
While you might not spot the creatures at first, an infestation will also see blood spots appearing on your sheets, as you squash the bugs in your sleep, and an unpleasant, musty scent in your bedroom.
How can you get rid of bed bugs?
It can be extremely difficult to get rid of an infestation, so your best bet may be to get professional help.
Once in your home, bed bugs can quickly spread from room to room. Wait too long before you identify the problem, and they could completely contaminate your home.
The NHS advise contacting your local council or a pest control firm that's a member of the British Pest Control Association or National Pest Technicians Association.
Here's what you should do to prevent an infestation:
If you suspect you've been infected, the first thing you need to do is strip your bed and wash the sheets and blankets in 60C water, before tumble drying for at least 30 minutes.
Better still get rid of them altogether by wrapping in bin bags and disposing in a bin.
Make sure you either throw your mattress away, or thoroughly vacuum it, and your carpet under your bed. Then make sure you take the vacuum outside and dispose of the contents.
Because 30 per cent of bed bugs live in your bed frame and headboard, it's vital that you clean those thoroughly, too.
While vacuuming will get rid of the bugs themselves, it won't get rid of the eggs. To do that, you'll need to wipe everywhere with a good pesticide.
What causes bed bugs?
Once in your home, bed bugs can spread from room to room on luggage, clothing and furniture so can quickly be a large problem.
He warned: "Bed bugs are becoming more and more common in the UK, and we're close to approaching epidemic levels.
"We estimate there has been around a three-fold surge in bed bugs in recent years, based on information from our pest controllers. It is a particular problem in highly-populated areas where the bugs can spread easily."
How can you treat bed bug bites?
Bed bug bites are painless, but some people can have a reaction to the red, itchy bumps on the skin.
In some cases people can experience a rash or fluid-filled blisters and they can get infected with bacteria if scratched.
You should see your GP if you have any signs of skin infection such as swelling, redness and pain as you may need antibiotics.
If they are very itchy you can use antihistamine tablets to relieve the itch and apply a mild steroid cream (such as hydrocortisone).
Getting Rid of Invisible Biting Bugs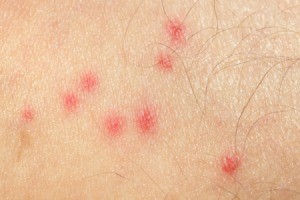 Solutions
Share on ThriftyFun This page contains the following solutions. Have something to add? Please share your solution!
Tip: Preventing Bites from Invisible Bugs
Use Hibiclens Antiseptic/Antimicrobial Skin Cleanser while showering and they won't bite that night.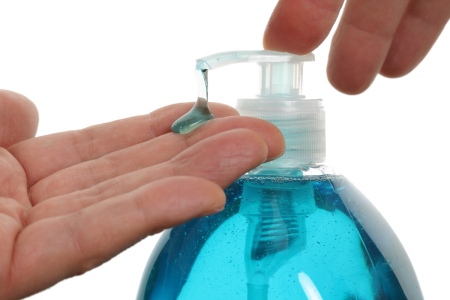 Tip: Help for Biting Bugs
People, even firewood sitting in a garage can contaminate furniture with microscopic mites – I believe they're everywhere in the outdoors. I got a loveseat from my sister and slept on it, the next morning woke up and had been slimed, covered heat to toe with – nothing I could see, but boy could I feel them.
I ran to the shower, Dawn kills mites a veterinarian told me; use hot water like a quart, add Dawn and some hydrogen peroxide – and spray like crazy. Hair spray sounds like a good way too, like I read on here. They don't like cedar oil, tea tree, lpeppermint, make a bottle with hot water and add a little carrier oil and then drops of whatever kind of oil you want to try.
My apartment is infested with tiny red mites that get all over everything – most of the time they're so tiny they can't be seen. Keep your place clean and dusted, I have to dust my computer area every day, and if they get in your hair, alcohol will stop them, or hydrogen peroxide sprayed onto your head in the area will help. Even if you can't see them, they are microscopic and will get into everything. Keep after them and don't give up!
Questions
Ask a Question Here are the questions asked by community members. Read on to see the answers provided by the ThriftyFun community or ask a new question.
Question: Getting Bitten By Unseen Bugs
I stay at my boyfriend's house on the weekends and I can't go a single night without getting bit. My boyfriend never gets bit. This has been going on for a few months now. I thought it was fleas because his mom has 3 dogs that aren't properly bathed or groomed, but the dogs are downstairs and do not go upstairs, where his room is.
We have done several things to try and get rid of the bugs. We've done DIY flea traps (never caught anything), we've used flea and other bugs powder for the carpets, we've put baking soda all in the carpet (another thing I read online that works better than flea powder), we've sprayed the room, washed all blankets and pillow cases, vacuumed, vacuumed, and vacuumed again, and we're about to do it all over again with washing everything vacuuming and spraying the room.
There's no way it's bed bugs. We have taken flashlights and searched all over the room, edges of carpet, the bed, everything. We've searched many times and have never seen a single bug. My boyfriend also has an air mattress, not a normal one. There are no bugs whatsoever on or in his mattress. It has to be the carpet.
I'm the only one getting bitten and it's driving me crazy. I barely get any sleep at night and my boyfriend has to listen to me complain about these phantom bugs. It's putting a strain in our relationship. I want these bugs evicted, but we can't even figure out what they are. We're trying and it's really hard.
We've ruled out bed bugs, mosquitos, and spiders. There's no way I could get bit for months and never seen a web, a bed bug, or a mosquito flying around.
Also, it's only when I'm sleeping. We can lay on the bed and watch TV and never get bit. But the second I fall asleep I'm getting bit. We also work late nights and sleep all morning, some afternoons so it's not like these bugs are nocturnal, unless they're also on our sleep schedule.
Please help me try to figure out what's biting me, and what I can do about it. These bugs constantly have me in tears from sleepless nights. I'm going crazy. Nothing is working.
Thank you in advance.
Answers
You may indeed have a flea problem even if the dogs do not visit the bedroom. Fleas and flea eggs can travel via your boyfriend, you and anyone else who enters the room, however quickly and at any time, day or nite. My husband, an entomologist, is not bothered by fleas, but I attract them like bees to flowers. The information below will help you understand what is happening.
Flea eggs do not stay on your pet, they quickly drop or roll off as they do not stick to anything. The fleas you find in your house hatched from the flea eggs that fell off of your pet or fell off of you and other people. Flea eggs are tiny and opaque white or almost colorless. The fleas you may see on your cat or dog are immature fleas from eggs on the floor or outside that hatched into fleas and jumped back onto your dog. You will also see (many!) small black dots on your dog but these are only flea feces.
The flea eggs in your home and outside are the real problem. Just one female flea can produce 40-50 eggs per day. The eggs fall off into your house and outside so, either way, your dog or cat will then again attract the immature and adult fleas both inside and outside which are the children from flea parents that may still be living on your cat or dog or you.
Any dish detergent bath may wash away or possibly kill some fleas on your pet, however, not all fleas are killed. In a bath many migrate up to the head and ear area and then, once the bath is over, travel back to their favorite spots, usually on the back. If you use dish detergent, you can seriously dry the animals skin and may cause skin rashes, an allergic reaction, etc., and you are not addressing the real problem. The thousands of flea eggs that exist all the time in your house and outside hatch and then jump back onto your dog or cat (and you!). So, you and your pets are locked into the everlasting cycle in the life of fleas.
A search online for how to kill fleas brings up many ideas for bathing, applying natural and awful sprays, etc., but these only address the fleas on your pet. Rarely do they address the bigger problem as a whole. You can check this site for answers that address your pet, your home and the outside. As you will see, flea prevention is a much larger problem than just giving your dog a bath.
The only way you will become flea free is to treat the dogs with flea killers. This will take time for the flea treatments to work and money for the medications. I strongly suggest having the dogs checked for fleas and any other medical problems and then treat the dogs with prescription medication. Over the counter flea products are not strong enough to deal with the uncontrolled flea infestation in the house.
I recommend Ivermectin for mites. I believe you can get it in pill form for human use, but they make a gel for horses that is much cheaper and still safe for people to use. My family got it for $3 on Amazon ("Apple flavor" but tastes nasty). My mom and I were both being bitten all over during the day and even more at night. I couldn't see the bugs, but my mom was finding tiny white dots that would bite and then jump off. The Ivermectin helped a lot. We also put all of our furniture, clothes, mattresses, and bedding outside in the Texas summer sun under plastic sheeting, used diatomaceous earth, sprayed everything regularly with rubbing alcohol, including ourselves, kept floors clean and vaccumed, cleaned out gutters, sprayed the yard, and treated our dogs with sulfur and flea collars. After 2 months of all of this the bugs were gone.
Question: Getting Rid of Invisible Biting Bugs
I keep finding little bug bites on my 3 year old's arms, I have searched her bed and no bugs, checked my cat and no bugs. Somehow these bug bites continue to appear each morning so something is biting her and then disappearing. I took her to the doctor and she said looks like a flea bite but I just can't seem to find them! How can I deter any and all bugs from biting her at night?
Answers
It appears to be a demodex mite I have had the same issue tea tree and alcohol give the most relief put tea tree in the washer when washing clothes also
You certainly aren't crazy!
I tired many things after ordering bed protectors.
I was losing sleep anxious and scratching constantly!
The SINGLE MOST IMPORTANT THING YOU CAN DO.
MATTRESS & BOX SPRING ENCASEMENTS!
You can get them at Walmart and that along with vacuuming daily will allow you to actually relax and sleep.
It took me a few day to let go of the fear. After the second night I slept with no bitting!
Be sure you don't allow your sheets or covers to touch the ground or you are giving them a free ride up to YOU!
I read on one site they come out at 4am to feed and sure enough they do!
We just pushed the clock forward for daylight savings time and MITES don't have that. So I was being bit at 5am
Good Luck!
Question: Getting Rid of Invisible Biting Bugs
My mom has been experiencing a sensation of bugs crawling and jumping on her skin. She thinks it's fleas. We tried bombing and got the house fumigated 3 times. We moved, but the pest still linger. She can't see them, but there are tiny black specs everywhere when she vacuums. The bites look like mosquito bites and they don't seem to be red. Is there any advice you could give her?
We've been dealing with these things for a year now. Here's some background info. We think we got it from a friend's neighbor who has a lot of cats and had to be hoarding fleas for at least 20 years. My mom thinks it is a new kind of flea that's immune to everything. If anyone could please help or see if they found a solution to this problem so my mom doesn't have to suffer anymore. We also tried Windexing everything that didn't help. We even got rid of all the furniture and now have to sleep on inflatable beds, but they still stick. Also apparently they will find shelter in anything including electronics such as TVs and even phones. We also tried boric acid, but that has no effect either. So anything that's helped someone?
Answers
Please take your mom to her doctor now and explain the problem in the detail you have provided here. You must accompany your mother in the doctor's office visit to fully describe all that has been happening. A very good idea is to copy your description of the problem here to Thrifty Fun and give it to the doctor in your visit.
Your mom may have a medical problem that the doctor can provide effective treatment to help.
I agree. And if she needs to sleep on an inflatable mattress that is fine but. and please take this with the utmost respect and compassion. you need to be comfortable. This is most likely not a real infestation.
I just had to advise a young woman who thought that gnats were following her that she might have a chemical imbalance that is causing her to see what no one else can see.
There is no new strain of fleas. I am so sorry you are going through this. But DCA is right. I hope she gets better and you all can get some rest.
PS: I just checked with www.web.md and there isn't even a catagory for this.
Your mother may indeed believe she "feels" the bugs, however, she must see her doctor immediately. Her doctor can examine the places on her body where she thinks the bugs have been biting. She/he can then provide medication to treat the bite areas and prevent the bites from becoming infected. The doctor can also recommend additional medical treatment to address the bug problem in the future.
Please take your mother to her doctor immediately for help to resolve her problem. She will feel much better finding an answer to the bug irritation and receiving the best medical treatment.
yes. Buy some cedar oil , mix 10 drops with 500mls warm water and a touch of dishwashing liq in a spray bottle. Before you sit anywhere , spray first. Also epsom salts mixed with warm water in a spray bottle can be effective ( but will leave a light mark). Both of these are not going to affect your health as other carcenogens will. You can put the epsom spray on your dogs .Add a few drops of tea tree oil to washing clothes etc. This has helped us enormously.
Question: Identifying Tiny Invisible Bugs
Please I need help identifying what's going on. I feel bugs on me at all times, and no matter how much I clean or shower, they won't go away. I thought it was gnats, but I shaved my whole body and they're worse! When I leave my home they go with me and all my friends even people I don't know can't stand to be near me. I shower like 6 times a day, so much that I'm out of soap, my washer broke, and my dryer. So I'm forced to stay home so I don't pass whatever it is.
My area is Las Vegas and it used to be home, now I can't stand to be in my home let alone my own room. Please help me, thank you.
Answers
Please, go to a doctor and tell him/her everything you are feeling and what you've done. It could be a serious medical condition.
The Top 10 Home Remedies to Get Rid of Bed Bugs Naturally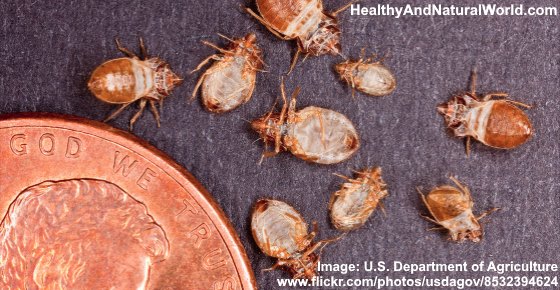 If you notice that you have small itchy spots, red rashes or blisters when you wake up, it could be a sign that you have bed bugs. These tiny little pests can infest the seams of your mattress, bed frames, box springs, and headboards. It can be a challenge to get rid of bed bugs because they are hard to detect and they multiply rapidly. Bed bugs should be destroyed as quickly as possible because they can infest other areas of your home and cause a major problem.
Actually, bed bugs are not a sign that you have a dirty home, but they can be brought into your house through luggage, used furniture and beds, clothing and other household items.
Fortunately, there are many ways to naturally get rid of bed bugs. Bed bugs can't survive extreme hot or cold temperatures, so, methods like steam cleaning, hot washes, and drying on a high heat are natural home remedies to eliminate bed bugs from clothing and bedding. Placing small items in the freezer is another way to kill bed bugs.
For larger areas, you can make your own natural bed bug sprays from tea tree oil, lavender oil, or eradicate bed bugs by sprinkling diatomaceous earth powder in crevices that bed bugs like to inhabit.
Before we look at the best home remedies to eliminate bed bugs naturally, let's look at the symptoms of bed bugs and the problems these tiny insects can cause.
The Problems Bed Bugs Cause
Adult bed bugs are about the size of an apple seed and gorge on the blood of humans and animals. Although bed bugs don't spread disease or cause infections, they cause a lot of personal discomfort.
Bedbugs can also quickly infest beds, couches, furniture and are difficult to find and kill because they like to hide in dark cracks, crevices, and gaps.
Dr. Carol DerSarkissian onWebMDsays that bed bugs reach adult maturity within a month and can produce 3 or 4 generations a year. 1
According to theNational Pest Management Association(NPMA), the problem of getting rid of bed bugs and bed bug control is growing every year. A survey carried by the NPMA found there is a resurgence of bed bug infestations in hotels, movie theaters, public transportation, and even medical facilities. 2
Signs and Symptoms of Bed Bugs
There is no doubt about it – bed bugs are a nuisance and exterminating these tiny pests should be a top priority. One of the first symptoms that you may have a bed bug infestation is bites on your skin. These bites can appear anywhere on your body that the bed bug can crawl to. According to theNational Health Servicein the United Kingdom, some of the other symptoms of bed bug bites are: 3
itchy red bumps on the skin
a red itchy bed bug rash
fluid-filled blisters or welts
a skin infection caused by scratching the itchy skin and allowing bacteria to enter the wound
There will also be some signs around your bed that indicate you need to think about some effective methods of bed bug control. For example, with a flashlight, you may discover the tiny bugs in seams around the edge of the mattress or in the bed joints or spring box. You may also notice dark or red spots on your bedding or mattress. This is their dried feces or blood from a killed bed bug.
What are the best ways of getting rid of bed bugs from your bed, mattress, headboard, couches, or anywhere else that they might be living? Here are some of the best tried and tested bed bug natural remedies.
If you have bed bug bites, make sure to read my article about the best natural ways to get rid of bed bug bites.
Here are some of the best home remedies to get rid of bed bugs:
10 Best Natural Home Remedies to Get Rid of Bed Bugs
Find the bed bug Infestation
One of the first steps to completely eliminate all traces of bed bugs from your home is to find all the infested areas. Bed bugs are usually found in bedrooms but they can inhabit any room in the home where people and pets sleep.
TheUS Environmental Protection Agencyrecommends carefully checking the seams of mattresses and other soft furnishings in your home. Examine the spaces between cushions, your mattress and bed frame and any other possible hiding place in your bedroom. Don't forget to check drawer joints, behind loose wallpaper, and even in electrical appliances. 4
Any space the thickness of a credit card is a potential home for bed bugs.
Use a vacuum cleaner to get rid of bed bug naturally
Using a vacuum cleaner to suck up the bed bugs is a very effective and simple method to eradicate bed bugs from your bedroom.
A vacuum cleaner is a common household item so you can use it right now to kill bed bugs. To make sure and get rid of any eggs around the seams of your mattress, use a stiff brush to loosen any bed bug eggs from the material.
Bed bugs can be hiding everywhere, so you'll need to vacuum all chairs and other soft furnishings, carpets, box springs, and mattresses and even curtains.
Regarding bed bug control, the journalClinical Microbiology Reviewssays that vacuuming can quickly get rid of a large number of bed bugs and their eggs. When using a vacuum cleaner to control bed bug infestations, it's essential to use a disposable bag. As soon as you have vacuumed the infested area, remove and seal the bag before disposing of it. 5
Freeze items to kill bed bugs
Kill bed bugs in smaller items by placing them in a freezer. Although bed bugs can't withstand freezing temperatures, they can live for up to a year in a cool room without any food sources.
To naturally kill the bedbugs you need to place infested items in a freezer that has a temperature below 1°F (-17°C) for at least 2 hours. 5
Hot steam kills bed bug
Hot steam is a great home remedy to destroy bed bugs and their eggs without damaging the environment.
The hot steam method for bed bug eradication can get rid of bed bugs from small crevices and cracks. The steam can also penetrate through the mattress lining and eradicate bug infestations inside the mattress.
Scientists have found that bed bugs are quickly killed when exposed to temperatures above 140°F (60°C). 5
So, if you have a steam cleaner, you can use it to exterminate bed bugs quickly without using harmful chemicals.
To kill bed bugs fast on your own using steam do the following:
Thoroughly vacuum all the areas you plan to steam.
Use the steamer on all surfaces where you see bed bugs and areas where you think bed bugs may be hiding to completely get rid of them.
After using the steamer, the fabric may be damp, but it should not be wet. If the fabric is too wet decrease the amount of steam produced by the steamer.
After you are finished, use a fan in the area to circulate air to help dry the items you have steamed.
Repeat the steaming procedure a couple of times until all the bed bugs are completely gone.
You need to be aware that steaming will only kill bed bugs that are exposed to the heat, so any bed bugs that do not come into contact with the steam will survive.
What is the best type of steamer for bed bug eradication?
The general recommendation is to use a powerful and heavy duty steamer with a large water tank, preferably with a steam volume control. Small steamers may not be effective in eliminating bedbugs. Small steamers require constant refilling and may cover less surface area so they can be less effective in eliminating bed bugs. They may also not get hot enough to eliminate bedbugs on and around the mattress.
Hot wash bedding and clothing
You can also get rid of bed bugs from infected clothing and other fabric items by placing them in the washing machine and wash them at a temperature of over 60°C.
Hot washing is probably one of the easiest and fastest natural ways to kill off bed bugs from clothing and other items using a common household item.
Use a hot dryer
After putting infested items of clothing or bed linen through a hot wash, you should dry the items in a dryer set to a hot setting. This will make doubly sure that the bed linen is sterilized from bed bugs.
Dr. Carol DerSarkissian onWebMDrecommends the hot wash and hot dryer method to de-infest fabric items like curtains, bedding, shoes, and stuffed toy animals from bed bugs. 1
You could also use a hair dryer together with your vacuum cleaner to drive bed bugs out of crevices. Set the hair dryer to the hottest setting and direct into the crack. The hot air will kill the bed bugs and also force them out. Any bug not killed by the hair dryer can be sucked up with the vacuum cleaner.
Encase mattresses and pillows
Another natural way to prevent bed bugs from biting you during the night and stop them infesting other parts of your home is to encase mattresses and pillows.
Encasements for mattresses, spring boxes, and pillows are tightly woven covers that prevent bed bugs from entering or escaping. The encasements should be kept on for at least a year to ensure that all the bed bugs die naturally.
TheNational Pesticide Information Centerrecommends using encasements to protect your bed from bed bug infestations. In addition to encasing your bed items, they also recommend placing bed bug traps (such as this one) under your bed legs to stop bed bugs crawling up. 6
Other Natural Home Remedies to Eradicate Bed Bugs
While the above home remedies are excellent ways to eliminate bed bugs from your home, it is also necessary to treat areas with natural insecticides to kill bed bugs and eggs in hard to reach places. Here are some natural insecticides that you can make yourself to get rid of bed bugs.
Tea tree oil bed bug spray
The insecticidal properties of tea tree oil make it a great natural treatment to get rid of bed bug infestation. You can use the homemade tea tree spray to kill off bed bugs in hard to reach places, like cracks, crevices, and furniture joints.
A study from 2014 found that a tea tree oil solution is an effective and natural insect repellent and also acts as an insecticide. 7
To make a natural insecticide with tea tree oil, put 20 drops of tea tree oil in a spray bottle filled with water and shake well. Spray liberal amounts of the natural insecticide in all areas where you think bed bugs are living. Use the tea tree oil bed bug spray daily until all the signs of bed bugs have disappeared completely. Remember to shake the natural spray well before each application.
Tea tree oil is also a great natural remedy to cure any skin itching caused by bed bugs.
Lavender oil pesticide spray
Similar to tea tree oil, lavender essential oil can be used to make an effective natural DIY pesticide spray to kill bed bugs.
The insect-repellent properties of lavender oil are toxic for bed bugs but completely safe to use around the home.
One study into the effect of essential oils and their use for insect and bug control found that a combination of lavender oil and peppermint oil effectively kills off insects. 8 Lavender oil also helps to destroy insect eggs and larvae as well as repelling bed bugs. Peppermint oil also has a strong repellent action. 8
To make a natural bed bug spray, add 10-15 drops lavender essential oil and 10-15 drops peppermint oil to a spray bottle filled with water. Use the natural spray to treat areas infested with bed bugs. Use the natural pesticide spray daily until you no longer have any signs of bed bug infestation. Shake well before each application.
There are many other effective sprays to eliminate these nasty critters – read about them in my article about the best bed bug sprays to kill bed bugs fast.
Diatomaceous earth (DE) for bed bug control
Diatomaceous earth powder helps to kill off bed bugs by causing them to dehydrate because it destroys their outer protective membrane. Some people also call it bed bug powder. Because vacuum cleaners may not remove all bed bugs in deep crevices, diatomaceous earth powder is an excellent way to control bed bugs and prevent further infestation.
A study into the use of diatomaceous earth in bed bug eradication found that it is a safe, non-toxic way to rid your home of bed bugs. Even though diatomaceous earth (DE) is slow acting, the study found that this was an advantage. This is because the bed bugs transfer the powder to other bugs and help to distribute the natural insecticide to their habitats. The study found that within 4 days, 80% of all the bed bugs had been killed. Complete eradication was achieved in 12 days. 5
To naturally eliminate a bed bug infestation with diatomaceous earth, dust the bed bug powder around all areas where bed bugs may be hiding. Repeat the process every 3 days for 2 weeks to ensure complete removal of all the bed bugs.
Make sure to usefood gradediatomaceous earth (here is one example), as it is safe to use around the home and it's an effective home treatment for killing bed bugs and fleas.
Home Remedies for Killing Bed Bugs – Commonly Asked Questions
Can baking soda (sodium bicarbonate) kill bed bugs?
Some people suggest that baking soda is an effective natural bed bug killer as it can dehydrate them or possibly even poison these tiny little pests.
However there is no indication showing that baking soda can eliminate bed bugs. In fact, baking soda doesn't absorb much fluids so it will not dehydrate the bed bugs.
Baking soda actually breaks down in water quite easily, so its ability to absorb thick, viscous fluids like the wax on a bed bug's shell is questionable. In addition, bed bugs don't eat dry items in their environment such as sodium bicarbonate so it cannot poison them.
Can salt eliminate a bed bug infestation?
Salt has been used for decades to kill pests, such as slugs and snails by absorbing fluids from their body and causing them to dehydrate.
Some people believe that salt can eliminate bed bugs in the same way it kills slugs and snails. However there is a very strong anecdotal reference that this doesn't work.
Does boric acid kill bed bugs?
Boric acid, can be used as a natural pesticide to kill roaches, eliminate ants, and eradicate termites but it needs to be ingested by the pest. Bed bugs have piercing and sucking mouth parts, and they do not ingest material other than blood from living hosts. Hence, there's no way to get boric acid into the bed bugs' stomach to kill them.
Does vitamin B1 (Thiamine) repel bed bugs?
Thiamin has been reported to be a mosquito repellent but there is no strong scientific evidence to support the fact that vitamin B1 helps in repelling bed bugs.
What is the best way to kill bed bugs naturally?
The best way to completely eliminate bed bugs for good is to use the following methods together:
Vacuum all areas where bed bugs can be found.
After vacuuming, use hot steam to naturally kill the remaining bed bugs instantly.
Hot wash infected clothing and all fabric items.
Use hot dryer for items that cannot be washed.
Encase mattresses and pillows to prevent bed bugs from biting you.
Use natural remedies such as diatomaceous earth and tea tree oil to exterminate bed bugs in hard to reach places.
How to Prevent Bed Bug Infestations
The best way to make sure that you never have any bed bug bites is to prevent bed bugs from infesting your home in the first place. Here are some top bed bug prevention tips:
If you notice blood spots or dark marks on your bedding, immediately check all areas of your bed, mattress, and bedding for bed bugs.
After returning from vacation, thoroughly vacuum your luggage.
When staying in hotel rooms, take a flashlight with you to inspect the bed frame and mattress for tell-tale signs of bed bugs.
Before bringing in second-hand furniture, beds, or mattresses to your home, thoroughly examine the items to make sure there are no bugs hiding in corners, joints, and seams.
If you notice any bed bugs, eliminate them using theseeffective bed bug spraysto get rid of them for good.
Read my other related articles:
Article Sources
13 Responses toThe Top 10 Home Remedies to Get Rid of Bed Bugs Naturally
NEEM can TOTALLY Destroy BEDBUGS!
The blood-sucking BEDBUGS are spreading fast all over the world in places of human habitations. They have become a great nuisance, as It is very difficult to eradicate them with the commonly used method of spraying insecticides. Their bites can cause severe itching, sleeplessness, irritability, depression, anemia and other related problems.
Even by using different types of insecticides regularly, I had failed again and again to remove all the BEDBUGS from my room. In desperation, I started using NEEM soap and NEEM detergents to wash my bedsheets, pillow covers, blankets, mosquito net, and also to wash my clothes like the shirts, pants, underwears, banians, nightdresses, caps, socks, handkerchiefs, towels, napkins, etc. Only after I did that, the BEDBUGS DISAPPEARED totally within a few days!
I was astonished to find such an easy solution in such a short period. So, it is NOT surprising why the Hindus worship the NEEM TREE as a GODDESS!
We can use NEEM SPRAYS to kill and repel bedbugs, mosquitoes, mites, lice, fleas, ticks, cockroaches, ants, flies, etc. Washing our clothes with NEEM soap and NEEM detergents repels these insects.
Even if we choose to wash our clothes with other soaps and detergents, we can just dip the clothes in NEEM WATER for some time, then squeeze them and hang them for drying.
BATHING with NEEM soap and using NEEM creams and NEEM lotions too can help our bodies to repel bedbugs, mosquitoes, mites and lice, and to prevent diseases like ANEMIA, MALARIA, DENGUE, CHIKUNGUNYA, SCABIES, etc.
Let us launch a worldwide campaign against bedbugs, mosquitoes, mites, lice and other insect pests by sending many messages like this one to all our contacts.
Add Comments: