How A Bed Bug Looks Like
Are There Bugs That Look Like Bed Bugs?
We receive many questions from our readers about bed bugs and other bugs that look similar to bed bugs. Most commonly asked question is'I have tiny bugs in my bed that aren't bed bugs but look a lot similar, and what should do about them?'. The fact is that indeed there are many bugs that look similar to bed bugs. Let us discuss some of them.
Book louse
Book lice are also called psocids. While they do not transmit any diseases, they can be extremely annoying when present in large numbers. Booklice can also be present in cereal boxes and other moldy areas with food grains. The best way to eliminate book lice and lice bites is to treat the environment. A book louse prefers warm and moist areas, so avoid these.
Bat bugs
The bat bug or Cimex pilosellus is a close relative of the bed bug or Cimex lectularius. The name 'bat bug' comes from colonies of bugs that are found around bat nests in abandoned buildings, attics etc. Eventually, the bugs move to human populations to bite and feed on human blood. The good news is that the bat bug populations die off in absence of hosts to feed upon. This is a huge difference from bed bug behavior which can survive for months without a blood meal. Similarity includes the fact that both species, bat and bed bugs, have short broad heads that are attached to the prothorax and an oval shaped body.
Spider beetle
Spider beetle is very similar in appearance to a bed bug. It has a shiny brown body which measures about 1/7 th inches and has a humpbacked appearance. Like bed bugs, spider beetles prefer the dark and are most active at night. During the day, they hide in cracks and crevices as well as in areas with food grains. They usually do not bite humans.
Cockroach nymph
Small cockroaches are similar to bed bugs in appearance. They are dark brown to mahogany colored and measure about 2 inches long. Immature cockroaches are especially similar to bed bugs. Cockroaches do not bite humans but they can contaminate food. They typically hide in kitchens and other areas with food and debris.
Carpet beetle
Carpet beetles do not much resemble bed bugs since they have round, solid brown or blackish hairy bodies. They even have irregular patterns on their body. The only similarity is that carpet beetles also have antennae and a hard exoskeleton covering their wings, just like bed bugs. Also, both species hide in carpets, rugs beds, mattresses and box springs. Immature beetles are covered with tufts of hair.
Bed bugs
Bed bugs are reddish brown, flat and oval. They measure about 1/5 th of an inch, have protruding eyes and short thick antennae. They also have wing like structures on either side of their head. Bed bug control is rather difficult and needs an integrated pest management approach. All infested sites have to be treated properly and at the same time.
As can be seen, there are many tiny bugs that can be present in your bed but they may or may not be bed bugs.
Bed bug bites
Typically, bed bug bites occur at night. Bed bugs can feed for up to 10 minutes on human hosts, before returning to their hiding place. You might notice a line of bites on your skin where several bed bugs have fed. These lines are usually present on the arms, legs, and torso and around the edge of the hem of your clothing. Many people do not immediately feel the effects of bed bug bites. Some people who are extremely sensitive may react to the protein injected by the bugs into the skin. As a result, they may develop reddish wheals which may be swollen and may itch terribly. The itchiness lasts for about a week after which, it diminishes. Bed bug bites produce variable symptoms as a result of which, it could become rather difficult to diagnose them. Regardless of these symptoms, it is very important to actually detect the presence of the bug in order to determine if it is indeed bed bug bites, dust mite bites, scabies or one of the many other possibilities.
Eradication of bed bugs
Eradicating bed bugs effectively needs an integrated bug management approach as stated above. You must dispose all infested items or at least wash them if possible. You can use insecticides but these need to contact the bed bug directly. Sometimes, bed bugs can walk across the treated surface but if they do not come in contact with the insecticide then they may not be killed.
Do visit the resources provided on this website to completely get rid of bed bugs.
Related Posts
Diatomaceous Earth for Bed Bugs – Get Rid of Bed… Diatomaceous earth for bed bugs is a slow but surefire…
Hotel Bed Bugs – How to Avoid Hotels with Bed Bugs Bed bug presence is not because of filthy surroundings. They…
The History of Bed Bugs – Where do Bed Bugs Come From? It is essential to study the history of bed bugs…
Got bed bugs?Here are 10 products that can help you get rid of and prevent them.
Bedbugs Slideshow: An Informative Look at Bedbugs
Don't Let the Bedbugs Bite
As if you needed something else to worry about, bedbugs, those pests from the old bedtime rhyme are making a comeback. More of a nuisance than a health hazard, they're showing up to suck blood from people in hotels, college dorms, and hospitals. Take an informative look at bedbugs: what they are, where they lurk, and how to spot them before they get you.
Know the Enemy
Bedbugs are small, flat, wingless insects with six legs that, like mosquitoes, feed on blood from animals or people. They range in color from almost white to brown, but they turn rusty red after feeding. The common bedbug doesn't grow much longer than 0.2 inches (0.5 centimeters) and can be seen by the naked eye to the astute observer.В Bedbugs get their name because they like to hide in bedding and mattresses.
Am I at Risk for Infestation?
Bedbugs are most often found in hotels, hostels, shelters, and apartment complexes where lots of people come and go. Because bedbugs hide in small crevices, they can hitch a ride into your home on luggage, pets, furniture, clothing, boxes, and other objects. Bedbugs are found worldwide, but are most common in developing countries. Once rare in North America, they may be on the rise due, in part, to increases in international travel.
Feeding Habits
These nocturnal creatures can hide in beds, floors, furniture, wood, and paper trash during the day. We humans usually become their dinner during the night, with peak biting activity just before dawn.They can obtain their meal in as little as three minutes, after which they are engorged and drop off the host, then crawl into a hiding place to digest their meal. Bedbugs can live for 10 months, and can go weeks without feeding.
Signs and Symptoms of Bedbug Bites
Amazingly, these sneaky little bloodsuckers dine on you without waking you. You don't feel their stealthy bite because they inject a numbing agent into your body, along with an anticoagulant to keep your blood flowing as they suck. The first sign of bedbugs may be itchy, red bites on the skin, usually on the arms or shoulders. Bedbugs tend to leave straight rows of bites.
Treating Bites
Bedbug bites do not usually require treatment. If a secondary infection occurs (usually from scratching), apply a local antiseptic lotion or antibiotic cream or ointment. Creams with corticosteroids and oral antihistaminesare used for the primary, unbearable symptom of itch. In these more severe cases, you may need to see your doctor.
Do Bedbugs Transmit Diseases?
Bedbugs are more of a nuisance than a health hazard. In a recent study, researchers reviewed 53 recent studies on bedbugs and their health and medical effects. The results showed that although bedbugs have been blamed for the spread of up to 40 different human diseases, there is little evidence to suggest they are carriers of human disease.
Bedbug or Imposter?
Don't assume your bites are bedbugs. Bites can be hard to identify, even for doctors. Rule out mosquitoes, fleas, mites, and biting gnats by conducting a visual inspection. It's best to collect and identify bedbugs to confirm bites. Look for the bugs themselves or their bloodstains, especially along the seams of mattresses. Further, look for dark spots of insect waste where bedbugs might crawl into hiding places on furniture, walls, and floors.
Bite Back Against Bedbugs
Professional exterminators should get involved right off the bat—tell your landlord, super, hospital administrator, hotel owner, or you call a professional right up front. The exterminator will locate the bed bugs (which may be found in more than one location) and exterminate as needed. YOU will have to do a lot of laundry.В
Up Next
Next Slideshow Title
IMAGES PROVIDED BY:
(1) Getty Images
(2) Nigel Cattlin / Visuals Unlimited
(3) Brand X Pictures
(4) Mark Andersen
(5) В© Pulse Picture Library/CMP Images / Phototake — All rights reserved.
(6) Dr. Kenneth Greer / Visuals Unlimited
(7) Darlyne A. Murawski / National Geographic
(8) Courtesy of Orkin, Inc.
(9) Thinkstock
New York City Department of Heath and Mental Hygiene.
Ohio State University Extension Fact Sheet.
University of Kentucky College of Agriculture.
University of Nebraska-Lincoln Extension Lancaster County.
Washington Post.
Reviewed by Sabrina Felson, MD on May 17, 2018
This tool does not provide medical advice. See additional information.
THIS TOOL DOES NOT PROVIDE MEDICAL ADVICE. It is intended for general informational purposes only and does not address individual circumstances. It is not a substitute for professional medical advice, diagnosis or treatment and should not be relied on to make decisions about your health. Never ignore professional medical advice in seeking treatment because of something you have read on the WebMD Site. If you think you may have a medical emergency, immediately call your doctor or dial 911.
WebMD Slideshows
View our slideshows to learn more about your health.
5 Bugs that look like bed bugs
No one wants a case of bed bugs, so spotting bugs that look like bed bugs or unidentified bites on your body often incites panic. Because bed bugs are so small and elusive, they can also be difficult to identify. Our pest specialists can help you determine your particular pest problem and craft a solution to bring you peace of mind. The following is a list of five bugs that are often mistaken for bed bugs.
1. Bat bugs
Color:Brown
Description:Bat bugs are the most similar to the bed bug of any on this list. Really the only observable difference between the two is that bat bugs have longer hairs on their heads.
Size:¼" – the size of an apple seed
Shape:Oval
Do Bat Bugs have wings?Bat Bugs have wing pads, but no functional wings.
Do Bat Bugs bite?Bat bugs will bite, but only if bats aren't around.
Where are Bat Bugs found?Despite what their name suggests, bat bugs usually aren't found on bats, but rather where bats live.
2. Spider beetles
Color:May range from pale brownish yellow to reddish brown to almost black
Description:Spider Beetles have long, thin legs and antennae, all covered with hairs. It has no "neck" as its head is directly connected to its body.
Size:1/32-3/16" (1-5mm)
Shape:Usually oval
Do Spider Beetles have wings?Yes, but only some species can fly.
Do Spider Beetles bite?No.
Where are Spider Beetles found?Spider beetles are often found in wooden structures and near sources of food. Poor sanitation often leads to Spider Beetle infestations.
3. Booklice
Color:Pale brown or creamy yellow
Description:Booklice closely resemble termites, with soft bodies and long, thin antennae.
Size:1/32-1/4" (1-6mm)
Shape:Segmented (head and body are separate)
Do Booklice have wings?sometimes – if present, there will be 4 held rooflike over body and rest
Do Booklice bite:No, but scientists believe their dead bodies in tandem with dust may contribute to asthma attacks.
Where are Booklice found?Booklice are often found in areas of high humidity, such as damp books, because they easily become dehydrated.
4. Carpet beetles
Color:Black with white pattern and orange/red scales
Description:The head of the Carpet Beetle is mostly hidden when looking from above, but short, visible antennae extend from it.varied carpet beetle
Size:1/16-1/8" (2-3.8mm)
Shape:Oval
Do Carpet Beetles have wings?Yes, adults fly during the daytime.
Do Carpet Beetles bite?No, but they are known to cause dermatitis in humans, due to allergic reactions.
Where are Carpet Beetles found?Carpet beetles are typically found on flowers and sometimes on fabrics (specifically carpet). They are often brought inside on fresh-cut flowers.
5. Fleas
Color:Reddish brown
Description:Fleas have long legs and round heads with a comb extending from Cat flea (Ctenocephalides felis), attacking also humans. Isolated opn whitethe mouth.
Size:Approximately ⅛"
Shape:Laterally flattened and segmented
Do Fleas have wings?No.
Do Fleas bite?Yes, and the bites are traditionally very itchy. Additionally, fleas are a vector for various diseases.
Where found:Fleas are often brought in from outdoors on animals.
Whether or not your infestation is that of bed bugs, Ehrlich is here to help. Call us at 800-837-5520 or contact us online to find out what our pest experts can do for you.
Bugs Often Mistaken For Bed Bugs
Sonny HenegarFollow
Manager at IBBRA, LLC
Since bed bugs are new for so many that have never heard about them, and people are used to insects they have grown up with, it is often that people mistake other bugs for bed bugs. Sadly, professionals have treated for bed bugs when it was carpet beetles. Yes, even professionals have mis-identified other insects for bed bugs. OK, so we are not perfect but let us all work on perfecting our skills.
When a person observes a small bug crawling across their bed, because of bed bugs in the news, they automatically assume it is a bed bug. Well in many cases, it is, but in many cases, it isn't.
The most important part of any professional treatment is identifying the bug for what it is and what it is not, because life cycles, nature and treatments vary with each insect.
Some people are allergic to any bug bite like me. A flea, a fly, a mosquito, it doesn't matter what it is, I get a reaction.
Now, it does make a difference in having "bites" and actually knowing the bug that bit you. Many people assume the bite they have is from a bed bug where in many cases it could be that evening bar-b-q or sitting out at dusk that yields a mosquito bite or two. This, "not knowing or assuming can lead to infestations".
I've been asked to take some of the information in my Bed Bug Health Effects – the Physical and Mental Implications of Bed Bugs book and share.
I specifically wrote this book to assist dermatologists and general practitioners when addressing a person with rashes, allergic reactions and mysterious itchy bites. Strange but true, many doctors make the diagnosis as food, medicine or material allergies when it is a case of bed bugs.
OK, if you're a practitioner don't beat yourself up because you don't automatically know if it is a bed bug bite. Everyone reacts differently and it is hard to tell unless you have the "bug in a bag" to show us.
Another reason I was compelled to write this book was I had been receiving calls from Health Departments across the nation that had been dealing with people calling in with these mysterious rashes and bites.
I remind people that you can't just look at the rash or bite and know for sure it was from bed bugs and the best thing to do is bring a specimen to the doctor's office.
The sky is not falling and bed bugs are not taking over the world (yet) but we all need to know the signs and symptoms that accompany having bed bugs before we run to the doctor.
Most of the time, bed bugs bites will go away on their own in a few days just like a mosquito bite. But, there are people that can get a more serious reaction that requires medical attention. In six years, I have experienced several calls where a person had blisters and welts that were inflamed, infected, and required immediate medical intervention. Two callers had an anaphylactic reaction and needed to go to the hospital.
The bite from a bed bug can irritate symptoms of other underlining conditions as well. Only you know your body and if at any time, you feel the need or are suspect of a more serious problem from any bite, rash or reaction, do not delay in seeking immediate medical attention.
So let's take a look at some of the culprits that are often accused of being bed bugs.
First, let's look closely at the bed bug and examine its physiology from eggs, through instar development to adult.
These are highly magnified bed bugs eggs. Notice each egg has a small "hatch lid" at the end of it. This is where the bed bug emerges. Notice their small red eyes through the translucent egg.
Once hatched, the young nymph's body is also translucent.
What Do Bed Bugs Look Like?
Bed bugs have small, flat, oval-shaped bodies. They are wingless. Adults do have the vestiges of wings called wing pads, but they do not fully develop into functional wings.
Adults are brown in color, although their bodies redden after feeding. Full-grown bed bugs move relatively slowly and measure between 4 to 5 mm. Homeowners sometimes have the misconception that bed bugs are too small to see with the naked eye. The nymphs may be small and difficult to see, but the adults are detectable with the naked eye and may be found in the cracks and crevices they use to hide.
Newly hatched nymphs are approximately the size of the head of a pin and are white or tan until they feed. They often are described as being about the size and shape of an apple seed.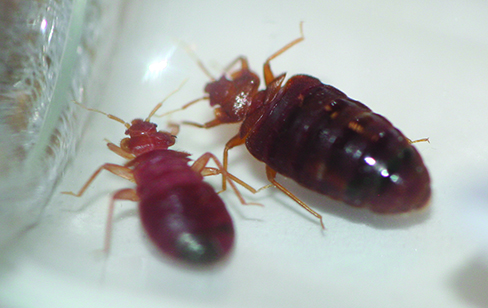 Bed Bug Control
Cimex lectularius L.
Learn what bed bugs look like, and how to detect if you have a bed bug Infestation.
Find out how bed bugs infiltrate your home and where they are attracted to.
Learn about bed bug bites. their feces and how they can impact your health.
Learn how Orkin handles bed bugs, homeopathic cures and the cost of bed bug extermination services.
Add Comments: