How Bed Bugs Look On The Mattress
Bed bug on mattress. How to get rid of them?
No one would want to share their bed with the blood sucking apple seed sized insects, bed bugs. Although they are this small and hard to control in this article, I am going to show you exactly how to get rid of bed bugs in your home. I will show you pictures of the signs of bed bug on mattress so you will have a clear idea. Effective control requires you follow the easy steps on this guide. The signs of bed bugs on a mattress include eggs, fecal stains and cast skins on mattresses. All you need to know is how to inspect for bed bugs, the signs of bed bugs, how to control them and the cause of bed bugs.
Check for bed bug on mattress
Bed bugs infested mattress
Bed bugs require blood meals to survive and complete their reproductive cycles. They feed on human blood and do not hide far from their feeding places thus they hide on the mattresses.
They defecate immediately after taking a blood meal. The 'poo' leaves stains on the mattress, and the stain sinks into the fabric of the mattress. This is one of the most frustrating and disgusting sights of bed bugs presence.
To find these stains and any other signs for bed bugs you have to inspect for bed bugs.
You need to know that these fecal stains can be found anywhere on the mattress even on places where the bed bugs hide when they are not feeding.
More things that you need to check on your mattress
Bed bugs also smear blood.
Because they usually feed when you are sleeping they can become trapped between you and the bed. They then get crushed and can leave blood spots on the mattress and sheets and even on your nightwear.
These blood smears and stains are not enough signs for bed bug on mattress.
Bed bugs reproduce quickly!
A bed bug lays at least 200 eggs in her lifetime, which hatch in 6 to 10 days and can live up to 10 months. This means that three or more generations of bed bugs are born each year.
When the baby bed bug moves towards adulthood, it sheds skin at least five times, at each developmental stage, before reaching maturity. The shed skins or cast skins look like light colored empty bed bug shells. And that is what they are! And you are more likely to find these on the specific hide out places on the mattress.
The hatched eggs also leave empty eggshells. And this is a symptom of a fast growing generation of bed bugs. These eggshells are very small approximately one millimeter in length but are visible with a naked eye. For the best results inspect using a magnifying glass.
The eggshells look like dried casings, but not shiny and flatter somehow. They are found in any place where the bed bugs hide especially on rough surfaces like the fabric. You also need to understand theВ bed bug life cycle.
You probably need more proof to confirm that bed bugs have infested your mattress. Bed bugs eggs can also be found on the mattress far away from the main population location. They are shiny translucent to pearly white and are mainly found in wood and fabric, unlike plastic or metal.
Baby bed bugs are also a sign of infestation in the home. They are called nymphs and are smaller and lighter in color than the adult bed bugs. They start turning red when they start to feed. They range in size from the size of a pin-head or poppy seed size at birth to about a quarter inch as they reach maturity.В They feed more frequently than the adult bed bugs and are more likely to be found as you inspect.
Inspect for the adult bed bugs themselves!
What do you need to know?
They are rusty-brown and very flat until they have filled their bellies with blood. They are about the size and shape of a small apple seed. In their early stages of infestation, they hide in and around the seams, piping, and tufts of the mattress.
The presence of bed bugs on the mattress is also noted by the sweet musty smell of coriander or almonds or over-ripe raspberries. This smell comes out in the heavily infested places. Bed bugs sniffing dogs are good at pinpointing hiding places for bed bugs effectively.
Bed bug bites are another indication of an infestation. These bites look like any other bites from other insects, and some people do not react to bed bug bites at all.
Infestation on the mattress must not spread and needs to be detected early. Treating an infestation on the bed is more convenient and far less costly and easier. Low-level infestations are not easy to identify as some insects as carpet beetles are usually mistaken for bed bugs. This misidentification gives bed bugs more time to spread on the mattress.
In the end, you should know that bed bug infestation can be identified by inspecting the following on the mattress
Eggshells
Blood smears
faecal stains
Bed bugs casting/ skin sheds
Bed bug eggs
Nymphs
Adult bed bugs
How to find bed bugs on mattress
The mattress is the place that you will most likely find bed bugs because bed bugs hide close to where they feed. Look in any place on the mattress that offers darkness, isolation and protection to the bed bug.
Before you start checking you have to take away all clothing and bedding from the bed.
Wear protective gloves as bed bugs take in blood and this blood may contain the disease. Your fingers are also going to get into the weird places of the mattress and probably smashing the bugs. You do not want the disgusting feel for your hands to catch the smell of bed bugs.
Here is a list of tools that you need to use,
A Flashlight
Thin Blade SpatulaВ or credit card
Magnifying Glass
Garbage Bags (for quickly containing infested items)
A Vacuum Cleaner That Can Use Filter Bags
AВ non pesticide bed bug spray
Now let me explain…
Use the flashlight on the mattress checking for blood stains. Look for bed bugs skins and eggs. The credit card is so thin and can easily run along the mattress seam. Use the credit card under any button, any straps and any tags on the mattress. Also turn the other side of the mattress and check for any signs of bed bugs. Bed bugs may flee when you start inspecting, make sure you pull the bed away from the walls. Use an insecticide aerosol such asВ CB-80В orВ PT 565В to flush the bed bugs out of suspected hiding places. These insecticides kill bed bugs on contact.
How do bed bugs look on your mattress?
Adult bed bugs about the size of an apple seed (5-7 mm or 3/16 – 1/4 inch long), they are long and brown if not fed. They become brown-like, reddish-brown and more elongated if fed. A bug has a beak with three segments; an antenna that has four parts; wings that are not used for flying; and short, golden-colored hairs.
Bed bugs are smelly, "musty-sweetish" odor produced through glands on the lower side of the body.
Young bed bugs are smaller, translucent or whitish-yellow; and if not recently fed, can be nearly invisible to the naked eye because of coloring and size.
How to treat bed bug on mattress
If you find any signs of bed bugs on the mattress, as blood stains make sure you wash all bedding, linens, curtains, and clothing first in hot water and dry them on the highest dryer setting. Any high-temperature environment kills bed bugs.
Dry cleaning and washing in hot water for 30 minutes or tumble drying for 30 minutes on high heat kills bed bugs.
Using a stiff brush on the seam of the mattress eliminates bed bugs and remove their eggs. Then vacuum the mattress. Vacuuming is one handy remedy to get rid of bed bugs in your home. A vacuum cleaner is a standard household item. It can suck up bed bugs and their eggs effectively from the mattress. It has to be done thoroughly to make sure that no bed bug escapes and at least once a week. Also, remember to change and dispose of the vacuum bag after you finish vacuuming.
You will have to use some home remedy to get rid of bed bugs. Expose your mattress to any of the following home remedies,
Diatomaceous Earth
Boric acid
Thiamine
Wintergreen alcohol
Sweet flag
Bean leaves
Indian lilac leaves
Tea Tree Oil
Thyme
Essential Oils
Mint Leaves
Black Walnut Tea
Beauveria bassine
Lemongrass
Clove
Pyrethrum
There is also a range of residual insecticides and dust for spraying of dusting the mattress as,
Dust last longer than aerosols whereas aerosols get into the smallest cracks of the mattress. Temprid SC may be used on the tufts and seams of mattresses.
Does Lysol kill bed bugs?
Lysol has to be sprayed directly on the bed bugs, and for best results, it has to be wet. Just spraying on the mattress may not have any effect.
Where to look for bed bugs on mattress
Bed bugs around the bed can be found near the piping, seams, and tags of the mattress. When checking first look at the edge reinforcement on the bed. Look at the sides of the mattress, following all stitch lines. Pay attention to all the labels, tags and buttons or air screens.
Can bed bugs live on the plastic mattress?
The plastic mattress is a control measure for bed bugs. In fact, it can be used as the cover.В Plastic makes it more difficult for bed bugs to survive thus killing them.
Can steaming help to get rid of bed bugs on the mattress?
70 percent of bed bugs live in the mattress. Bed bugs can be very stubborn in the home thereby requiring more effective and professional methods to get rid of them.
Steam treatment can eliminate bed bugs on mattress. It is a method by which the cleaner produces low vapor, high-temperature steam. The steamer must be dry so that the mattress does not mold. The steam must not allow any bed bugs to escape therefore it mustn't be too powerful but fast. Otherwise, the bed bugs will scatter to other places.
Steam seams and labels of the mattress and continue to all the surroundings. Because bed bugs are very sensitive to greater heat temperatures than 45 degrees Celsius, instant and fast heat can kill them. The material is heated must be heatproof to avoid explosions.
Does mattress encasements kill bed bugs?
Mattresses can be prevented from bed bug infestation by using the bed bug mattress covers or encasements. These are impenetrable to bed bugs outside the mattress. If the bed bugs get trapped in the mattress, they will not be able to escape and will eventually die.
It's important to know the cause of bed bugs
Bed bugs hide in the deepest, warmest and inaccessible crevices of the home.
Bed bugs find hiding places in clutter, not dirt thus they can be found anywhere from five-star hotels, in planes, trains and automobiles, and most public places like libraries, schools, and even retail stores.
The best way to get rid of bed bugs
The best way to get rid of bed bugs on the mattress on your own is to prepare the room by removing clutter. You need to get rid of all items that you do not need to use or keep. All items in the room must be treated at the end of the day.
Reduce clutter off the floor so that all areas can be thoroughly treated. Be careful not to transfer bed bugs from room to room by carrying things throughout the house. If the mattress is heavily infested, covered with aВ Bed bug proof mattress cover, or aВ Bed bug mattress encasement.
Regardless if you find a bed bug or not, I am going to recommend using ourВ Bed Bug Bully DetergentВ on all your linens, pillows, bed sheets and mattress. This is a specially formulated natural detergent that kills bed bugs and the eggs. You will want this because in many cases there are eggs in your linens and pillow cases. Your regular detergent or bleach will not kill bed bugs or the eggs. So consider aВ solution to wash your bed bug infested linens.
Reduce Clutter
Launder Infested Garments and Linens
Dismantle Bed Frames
Remove Dresser Drawers
Clean the Area
Caulk and Seal
US EPA
Bed Bugs
How to Find Bed Bugs
If you have a bed bug infestation, it is best to find it early, before the infestation becomes established or spreads. Treating a minor infestation, while an inconvenience, is far less costly and easier than treating the same infestation after it becomes more widespread.
However, low-level infestations are also much more challenging to find and correctly identify. Other insects, such as carpet beetles, can be easily mistaken for bed bugs. If you misidentify a bed bug infestation, it gives the bugs more time to spread to other areas of the house or hitchhike a ride to someone else's house to start a new infestation. Learn about identifying bed bugs.
Bites on the skin are a poor indicator of a bed bug infestation. Bed bug bites can look like bites from other insects (such as mosquitoes or chiggers), rashes (such as eczema or fungal infections), or even hives. Some people do not react to bed bug bites at all.
Looking for Signs of Bed Bugs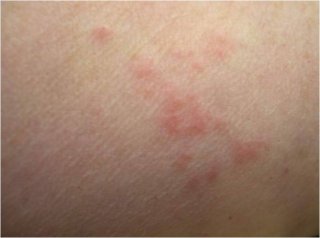 A more accurate way to identify a possible infestation is to look for physical signs of bed bugs. When cleaning, changing bedding, or staying away from home, look for:
Rusty or reddish stains on bed sheets or mattresses caused by bed bugs being crushed.
Dark spots (about this size: •), which are bed bug excrement and may bleed on the fabric like a marker would.
Eggs and eggshells, which are tiny (about 1mm) and pale yellow skins that nymphs shed as they grow larger.
Live bed bugs.
Where Bed Bugs Hide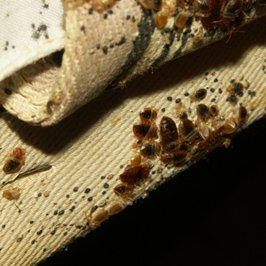 When not feeding, bed bugs hide in a variety of places. Around the bed, they can be found near the piping, seams and tags of the mattress and box spring, and in cracks on the bed frame and headboard.
If the room is heavily infested, you may find bed bugs:
In the seams of chairs and couches, between cushions, in the folds of curtains.
In drawer joints.
In electrical receptacles and appliances.
Under loose wall paper and wall hangings.
At the junction where the wall and the ceiling meet.
Even in the head of a screw.
Bedbugs
In this Article
In this Article
In this Article
Bedbugs are small, oval, brownish insects that live on the blood of animals or humans. Adult bedbugs have flat bodies about the size of an apple seed. After feeding, however, their bodies swell and are a reddish color.
Bedbugs do not fly, but they can move quickly over floors, walls, and ceilings. Female bedbugs may lay hundreds of eggs, each of which is about the size of a speck of dust, over a lifetime.
Immature bedbugs, called nymphs, shed their skins five times before reaching maturity and require a meal of blood before each shedding. Under favorable conditions the bugs can develop fully in as little as a month and produce three or more generations per year.
Although they are a nuisance, they are not thought to transmit diseases.
Where Bed Bugs Hide
Bedbugs may enter your home undetected through luggage, clothing, used beds and couches, and other items. Their flattened bodies make it possible for them to fit into tiny spaces, about the width of a credit card. Bedbugs do not have nests like ants or bees, but tend to live in groups in hiding places. Their initial hiding places are typically in mattresses, box springs, bed frames, and headboards where they have easy access to people to bite in the night.
Over time, however, they may scatter through the bedroom, moving into any crevice or protected location. They may also spread to nearby rooms or apartments.
Because bedbugs live solely on blood, having them in your home is not a sign of dirtiness. You are as likely to find them in immaculate homes and hotel rooms as in filthy ones.
When Bedbugs Bite
Bedbugs are active mainly at night and usually bite people while they are sleeping. They feed by piercing the skin and withdrawing blood through an elongated beak. The bugs feed from three to 10 minutes to become engorged and then crawl away unnoticed.
Most bedbug bites are painless at first, but later turn into itchy welts. Unlike flea bites that are mainly around the ankles, bedbug bites are on any area of skin exposed while sleeping. Also, the bites do not have a red spot in the center like flea bites do.
People who don't realize they have a bedbug infestation may attribute the itching and welts to other causes, such as mosquitoes. To confirm bedbug bites, you must find and identify the bugs themselves.
Continued
Signs of Infestation
If you wake up with itchy areas you didn't have when you went to sleep, you may have bedbugs, particularly if you got a used bed or other used furniture around the time the bites started. Other signs that you have bedbugs include:
Blood stains on your sheets or pillowcases
Dark or rusty spots of bedbug excrement on sheets and mattresses, bed clothes, and walls
Bedbug fecal spots, egg shells, or shed skins in areas where bedbugs hide
An offensive, musty odor from the bugs' scent glands
If you suspect an infestation, remove all bedding and check it carefully for signs of the bugs or their excrement. Remove the dust cover over the bottom of the box springs and examine the seams in the wood framing. Peel back the fabric where it is stapled to the wood frame.
Also, check the area around the bed, including inside books, telephones or radios, the edge of the carpet, and even in electrical outlets. Check your closet, because bedbugs can attach to clothing. If you are uncertain about signs of bedbugs, call an exterminator, who will know what to look for.
If you find signs of infestation, begin steps to get rid of the bugs and prevent their return.
Bedbug Treatments
Getting rid of bedbugs begins with cleaning up the places where bedbugs live. This should include the following:
Clean bedding, linens, curtains, and clothing in hot water and dry them on the highest dryer setting. Place stuffed animals, shoes, and other items that can't be washed in the dryer and run on high for 30 minutes.
Use a stiff brush to scrub mattress seams to remove bedbugs and their eggs before vacuuming.
Vacuum your bed and surrounding area frequently. After vacuuming, immediately place the vacuum cleaner bag in a plastic bag and place in garbage can outdoors.
Encase mattress and box springs with a tightly woven, zippered cover to keep bedbugs from entering or escaping. Bedbugs may live up to a year without feeding, so keep the cover on your mattress for at least a year to make sure all bugs in the mattress are dead.
Repair cracks in plaster and glue down peeling wallpaper to get rid of places bedbugs can hide.
Get rid of clutter around the bed.
If your mattress is infested, you may want to get rid of it and get a new one, but take care to rid the rest of your home of bedbugs or they will infest your new mattress.
Continued
Bedbug Extermination
While cleaning up infested areas will be helpful in controlling bedbugs, getting rid of them usually requires chemical treatments. Because treating your bed and bedroom with insecticides can be harmful, it is important to use products that can be used safely in bedrooms. Do not treat mattresses and bedding unless the label specifically says you can use them on bedding.
Generally it is safest and most effective to hire an experienced pest control professional for bedbug extermination.
Sources
University of Kentucky College of Agriculture: "Bed Bugs."
Ohio State University Extension Fact Sheet: "Bed Bugs."
The New York City Department of Heath and Mental Hygiene: "Stop Bed Bugs Safely."
University of Nebraska–Lincoln Extension Lancaster County: "Managing Bed Bugs."
PestPolicy
Below I've listed 99+ images/pictures of bed bugs, including baby bed bugs, nymphs, fertilized females, eggs, and adults.
When you consider controlling bed bugs (Cimex lectularious), knowing what to look for (pictures of bed bugs) is your best defense.
By definition: Bed bugs are flat- to oval-shaped reddish-brown insects that are 4-5 mm long. They suck blood while you're sleeping or resting – mainly at night. We all feel itching when we hear or read about these bugs – psychosomatic effects.
So, what do bed bugs look like? What's their size, color, and body shape in comparison to objects such as liberty coins, Petri dish, Suitcase, etc. Let's get started!
What Do Bed Bugs Look Like? 99+ Pictures of Bed Bugs, Treatment, & Prevention
1.Actual Size of AdultBed Bugs (See Pictures)
Size: Adult Bed bugs are rusty-brown insects that measure 4-5 mm long – about ¼ inch or the size of an apple seed. You'll notice reddish orRustystains on your mattresses or bed sheets that are caused by the bugs.
Image Credits: Redbedbugs
The size of bed bugs tends to change as it feeds and grows from one life stage to the next. Their eggs measure about 1/32 inches long, while adults will measure 3/16 inches in length. Once the bugs suck blood – it'll engorge to roughly 1/5 inches to 1/4 inches.
Adult Bed Bug on a Bed
Color: The color of Adult bed bugs will vary depending on when lately they fed on a meal of blood from their host. They'll belight brownand have an oval-shaped/ flat body when they've not recently fed on blood.
Color of bed bugs
Shape: Adult bed bugs are small, flattened, and oval-shaped insects that have considerably reduced wings. They're visible to the human eye. Other names of these bugs are mahogany flats, chinches, or red coats.
Adults are about one-sixth of the whole bed bug population. The hemelytra (fore wings) are broad and short with a rectangular shape. Also, the bed bug's sides are covered by stiff and short hair.
Bed Bug Legs: Bed bugs have two antennae plus six legs. The bugs' body looks stripped due to their short body hair that's golden looking in color.
Bed Bug Legs + Antennae
Media coverage on bed bugs recommends searching behind walls, examine bed and mattress, look behind picture frames/ pictures, and in walls.
Real bed bug waste: Bed bug poop will look like tiny clustered spots on the bed frames. The poop is mainly made of digested blood that turns black, rust-colored, and darker after drying.
Bed bug waste/ Poop
2. Bed Bugs on Tape Measure
This must have been a notorious one – well, it was dead when taking these pictures. I found it on the bathroom floor. For this, I used Diatomaceous Earth – and it's evident that it worked.
Definition: Adult bed bugs will measure about a quarter-inch (4 – 5mm) in length and are reddish-brown. They are flat to oval-shaped, depending on the amount of blood they've sucked. However, adult bed bugs and that makes just one-sixth of these bug's population.
Baby bed bugs: But, baby bed bugs will mainly be pale white and about a millimeter in millimeter at birth and will readily blend with the background. So, let's get into the details.
3. Massive Bed Bug Infestation on Sofa
Bed bugs will hide in most types of furniture – particularly in their undersides, seams, and corners. The rule of thumb is that bed bugs will fit in any crack that can also take a credit card.Check the bugs below hanging on sofas!
Rarely will bed bugs hide in vinyl, suede, or leather sofa or couch materials. So, if you sit on an infested chair or couch – it's highly likely that you'll carry the bed bugs to your home.
Further, you can use Tea tree oil, Lavender oil, Pepper powder, and Diatomaceous earth. Check these bed bugs on sofa massive bed bug infestation…
So, you're wondering, would keeping your very clean prevent a bed bug infestation?Well, not really, bed bugs will attack whether the place is dirty of clean. However, with a clean house, you'll find it easy to spot any bed bugs lucking around.
Exterminators recommend that you wash the bed sheets using hot water, avoid buying second-hand furniture, use a mattress cover, reduce room clutter, and inspect hotel rooms for bed bugs.
4. Dead Bed Bugs, their Eggs, and Nymphs
You'll find most dead bed bugs to be shriveled and lying on their back. If you inspect your mattresses and box spring, you might notice signs of bed bugs.
Some may include dead bed bugs or specks of blood. Have you found some dead bed bugs in your house? – Check the one below.
Bed bugs don't play or pretend to be dead – according tobehavioral sociology. Therefore, any of them that remains fully still after some disturbance is most likely dying or dead. Any of the bugs that are still alive will run away with slight lighting (afraid of light) or disturbance.
Image Credits: AFPMB
You might also want to inspect hidden areas like wall joins, ceiling and cracks, bedroom furniture, and carpet and your beds. Below is a video of some dead bugs. Disclaimer, some live ones were filmed.
2. Pictures ofbabybed bugs
Baby bed bugs will hatch from eggs (they're pinhead-sized) and consequently grow to be adults in only one month. But these insects will require a dry and warm environment.
Bed bug eggs (nymphs) are visible using your naked eye – they're colored translucent (when freshly hatching) to whitish-yellow/ brownish as they continue feeding.
After hatching from the eggs, baby Cimex lectularius quickly hunt for a good blood meal. Without a blood meal, the bugs won't develop to their next stage. Despite that they can endure days even up to 1 month devoid of feeding, the bugs can feed even once daily while also casting their skin.
Bed bug larvae measure about a millimeter when they are born, and they tend to be pale white, which makes them blend readily with the background.
You can see blood inside a nymph babies' body after it has had its generous blood meal. You'll notice that these bugs look anything like a small swollen balloon. To treat these bed bugs infestations, check here.
Well, for a small bed bug infestation, could be just one female who's mated and she's in a package or your home – and that's all they'll require. The bed bug needs to feed on blood to nourish the eggs she'd produce.
3. Pictures of Bed bug Eggs (They're Oval & White)
Females will lay about 250 eggs over their lifetime, which is about 2-4 months. The oval and white eggs are 1/16 inches in length – something like the grain of rice – and you'll mainly find them in crevices and cracks.
Bed Bug Eggs (Oval and White)
The eggs have round ends with an elongated and oval-shaped body. The eggs are attached to a glue-type substance that'll render them challenging to remove or move.
But the eggs have a "wet spot" look – you can use a flashlight plus a magnifying lens to search for them. They'll hatch into babies in about 6-10 days. Further, its nymphs tend to mold about five times before attaining adulthood. Need a video instead? Check this right below…
3. Males vs. Female Bed Bugs
The main difference between females vs. male bed bugs is that the females have a rounded abdomen while the males have a pointed abdomen.
Also, males won't lay eggs like their female counterparts. They all have six legs, are brown, and are about an apple seed in size. None of them will take care of the young nymphs or eggs.
Females: Female bed bugs will only lay eggs if they mate with their male counterparts – they need the male's sperm. Females have a hemocoel – an empty abdominal space to store their eggs.
After mating, the females will store sperm from the males and could even draw from it to create mature eggs multiple times. Besides sperms, female bed bugs require a blood meal before creating and laying their eggs.
Males: Male don't produce eggs, and they lack ovaries. Males will break through the female's shell, aim at the abdomen (its tiny dark spot) to deposit their sperms in the hemocoel.
The sperms spread via the blood of the female bed bugs until it reaches the ovaries – in what we term as traumatic insemination.
Bed Bug Patterns– Female and male bed bugs have stripes patterns that move right to the left. They use this system to allow abdominal expansion when feeding on blood.
However, the females will show a small ridge at the back near its tail – the exact hemocoel location. Therefore, you'll notice that the stripes will look somehow curved as they cross this ridge on their back.
Bed Bug Skin Color– Definitely, its possible to see through the bed bugs skin despite that its brown. So, we've noted that females and males hold (based on their functions) internal organs that are different.
Bed Bug Skin – See Through it?
Therefore, you can see the hemocoel and ovaries in the female bed bugs. Further, you can see a dark area on the female's abdomen (at its back) – which we noted is its hemocoel.
4. Bed Bugs Engorged with Blood
Bed bugs will mainly feed on blood meals during the night – this is the time when sleeping humans release carbon dioxide that tends to attract these bugs. Within 5 to 10 minutes, the Cimex lectularius will be fully engorged with your blood.
The bugs will also suck blood from different warm-blooded hosts despite that they prefer feasting on human blood. But for heavily-infested places, bed bugs will also feed take their blood meal at day time.
One hollow tube will inject anesthetics (saliva looking liquid) into the human skin that makes the area numb. The other hollow tube will draw the host's blood. The bugs will hide for about 5 to 10 days during the time which they'll digest the blood, mate, and in addition, lay eggs.
Bed Bugs Engorged (Image A) Vs. Not Engorged (Image B)
Image Credit: Bed-bugs-handbook
4. Bed bugs on Curtains
The bugs may hide and live in drape fabrics. The fabric provides the bed bugs with hiding areas and dark folds. They easily get to your curtain buy climbing on adjacent walls or other drapes.
The bugs will lay eggs on the curtain that'll stick more due to their glue. Here's a couple of adult bed bugs, their eggs, nymph, and flea dirt on the top inside of the curtains – this is so scary being in a kid's room!
Some bed bugs may attack drapes in packing, shipping, or on the production floor. The curtain may also pick bugs at the dry cleaner. This may also come from bed-bug infested luggage rugs or mattresses to your drapes.
5. Pictures of Bed Bugs on Mattress
Female Cimex lectularius will lay their eggs in crevices and cracks, particularly on the edges of your bed frames, box springs, and mattresses.
Bed Bugs on Mattress
Besides, the pest will also occupy crevices and cracks – hiding in bed rails, headboards, empty bed stands, mattresses tufts or folds, and spring soils. You'll see cast skins, fecal stains, and even eggs.
Bed Bugs On Pillow
To control these bugs, first, stay off the home, change your bedding, and clean up. Check reddish or rusty stains on mattresses and bedsheets from the pests that may have been crushed.
Check for nymphs and their skins (colored pale-yellow) or the dark spots mainly caused by Cimex lectularius poop. Further, examine the clothing and under crevices.
5. Bed bugs on a Petri Dish
These are the bed bugs that my neighbor collected in her daughter's room. Sadly her kids had a meltdown – particularly with her son, who has autism, and thus they had to sleep at my house.
How to Inspect and How to Treat Bed Bugs on Mattress
If you ever had to face a bed bug infestation in your home, you probably wonder how to save your mattress from the pesky bugs. And rightly so, mattresses can be crazy expensive even without having to change them every couple of years.
The solution, of course, is to treat the bed bugs on the mattress and salvage your investment. The bed is usually the first and most common place that gets attacked by the insects. This guide will give you a deep understanding on how bed bugs enter your home, what attracts them, how to treat a mattress that's infested by the bed bugs and how to prevent any further bed bug problems.
How Do Bed Bugs Get on Your Mattress?
Bed bugs may infest your mattress by getting to your bed from many different places. They want to be as close to you while remaining hidden and safe, so that's why they choose the mattress in the first place. The most common sources of bed bugs are related to travelling or bringing home items that have been previously owned by someone else, like second-hand furniture, for example.
Some of the most common sources of bed bugs are:
Clothing or luggage
Motels and resorts
Movie theaters
Apartments
Parks and other public places
Boxes and packaging
Bedding of any type
Used Furniture
Purses and backpacks
There are also other factors that lead to an increased chance of ending up with bed bugs on your mattress such as: poor hygiene; dirty sheets and dirty laundry. This, though, doesn't mean the insects are attracted only to dirty clothing and covers, it's absolutely possible to have an infestation even if your home is very clean and tidy. It just means that if your home is a mess it gives additional hiding grounds for the bug.
You should inspect your luggage after every trip or your rooms after guests.
By nature, bed bugs are nocturnal, so they are most active during the nights and are usually attracted by the warmth and carbon dioxide emitted from a person's body. This is why usually furniture such as beds are infested.
How to Know You Have Bed Bugs in the Bed
It's not that hard to notice that your mattress has been infested but sometimes there might be confusion if bed bugs are responsible for things such as itchy bite marks. To be sure that bed bugs are in fact the insects that are hiding under your bed, check for any of the following signs of a bed bug infestation:
Red, itchy bite marks on the body (mind that 70% of the people do not react to the bed bug bites)
Dark, brown faecal stainings on the mattress
Coriander smell in the room
Blood stains on the sheet or pillows
Small white eggshells under the mattress and the box-spring
Live bed bugs
How to Inspect a Bed for Bed Bugs
Bed bugs are a common problem in rented flats because many people rent and vacate them. It is such a common problem that landlords have started putting clauses in their leases to specify who is responsible for a bed bug treatment.
You can inspect your house for bed bugs on your own. See what are the sings of a bed bug infestation to look out for.
Some of the signs aredead or alive bed bugs, egg shells, brown or red spots on your bed sheets.
Where you have to inspect: your bed including the mattress, headboard, box springs; carpet and walls near the bed; nightstands, even power sockets near the bed.But also don't forget to take a look around your upholstered furniture where you spend a lot of time on. Armchairs and sofas can be infested, too.
This is why if you know how to detect them, you will be able to prevent a potential infestation. This video will show you how to inspect your own bed or a bed at a hotel for bed bugs.
Inspect less common hiding places.
In order to be as thorough as possible, you should check as much of the room as you can. Yes, bed bugs have their favourite hiding spots, and that's where their name comes from, however, they can be hiding in many more places. Some other places to check would be: curtains, wardrobe, dresser, around lamps, behind wallpaper, in the corners of the room, behind pictures or other decorative items in the room, especially if they are close to the bed.
* You can do this check your own home or at a hotel that you are staying at.
What Kills Bed Bugs in the Mattress Instantly
Home remedies for bed bugs have proven to be efficient only at the early stages of the infestation when their numbers are small. If the insects are already everywhere around the premises of your home, getting rid of the bugs requires a more professional approach to the situation. This means arranging either a heat treatment or comprehensive insecticide treatment for the bed bugs on the mattress and the rooms – both are good but vary in price, effectiveness, methodology and required time.
Heat Treatment
Heat treatment is a very effective and fast way to get rid of bed bugs on the mattress and in the entire room actually! It usually guarantees 100% eradication of the insects, if it's done professionally. The good thing about this pest extermination process is that bed bugs, no matter their life stage, are very vulnerable to the temperature of 56°C – it kills them in a short time, usually a couple of hours.
Mind that in order to provide full safety, pets, electronics and soft synthetic fabrics should be removed from the room that is going to be heat treated.
The whole extermination process takes about 4-6 hours per room, based on the size of the property that needs to be treated.
Insecticide Treatment
Insecticides have been used for many years as a method of pest control against bed bugs. The substances that are used for bed bugs extermination now are very advanced and will have no impact on your health as long as you follow the instructions of the pest technicians.
Three types of insecticides are most popular and are still being used as the common method of bed bugs control:
Fast-acting, contact insecticide is used primarily for furniture that people touch rarely. Cypermethrin is a fast-acting insecticide.
Residual insecticide is applied deep into furniture that we usually have contact with, such as sofas. Most popular residual insecticides are aerosol sprays.
Dust insecticide is used on surfaces have cracks and crevices where bed bugs will tend to hide. Such surfaces are floors, ceilings, behind cabinets, refrigerators and sinks. The diatomaceous earth is a type of dust insecticide that is widely used but it requires a proper application.
You can read more on how we proceed with the bed bug treatment service we offer. How long it takes and what are all the steps from booking the service to getting rid of the bed bugs. The good thing about professional control is that you don't have to do any research nor to get your hands "dirty" — everything's up to the professional exterminator.
Do not underestimate the value and importance of laundering all sheets and beddings when you're dealing with bed bugs.
How to Prevent Further Bed Bug Infestations of Your Mattress
How to prevent bed bugs from getting into your mattress:
Thankfully, you can get bed bug covers or "encasements", as they are more commonly referred to. Use them to completely cover a mattress and its box-spring and prevent bed bugs from getting into the seams and folds of the fabric. Buying a bed bug cover when you first grab your mattress can potentially save you a lot of money. Why you may ask? Because in case of an infestation you won't have to replace your expensive mattress.
When buying a mattress encasement, make sure to look for a couple of key features:
Strong Stitching:The mattress should be able to withstand wear and tear without ripping over time. If the stitching rips off, that will allow easy access for the bed bugs!
Tight Zippers:The zipper teeth should be tight and not allow for any potential penetration by a bed bug.
Waterproof:On top of preventing bed bug infestations, a good cover can also protect your mattress from liquid spills. Keep an eye out for this feature!
Cotton Material:Having cotton as your top layer can help reduce that "crinkle" noise and keep you a bit cooler at night as an alternative to cheaper polyester fabrics that heat up very quickly.
For more information about picking out a bed bug mattress cover check out this in-depth guide.
Here are a few simple precautions that can help prevent bed bug infestation in your home:
Don't leave luggage on the bed. Inspect it outside first;
Get a protective mattress cover for bed bugs. Encase your mattress and box spring with it to minimize the possible hiding places;
Don't bring home used furniture or bedding;
What cannot be washed on high temperature, vacuum it;
Declutter your home – this reduces the number of hiding spots for bed bugs;
Keep pets out of bed bug-infested-rooms. The insects will feed on them when they don't use humans for sustenance.
Bed bugs hide close to their food source – you.
Add Comments: