How Big Do Bed Bugs Grow
HOW BIG ARE BED BUGS ?
BED BUG TREATMENTS: HOW BIG ARE BED BUGS ?
So, how big are bed bugs actually and can you see bed bugs? If you are worried about bed bugs in your home then the first thing you must learn is how to identify a bed bug.
Bed bugs are often mistaken for cockroaches or booklice and they are very often overlooked, as they are usually nocturnal insects and they come out only at night, every 1 or 2 weeks, to feed on blood.
If you have seen an insect in your home, at or near your bed, then have a look at the bedbug picture below, to see if you can recognize the insect.
HOW BIG ARE BED BUGS ? – Bed bug treatment.
How big are bed bugs then?
The Adult bed bugs grow to 4–6 mm in length and a width of 1.5–3 mm wide. They are brown in color.
The Newly hatched nymphs are translucent and lighter in colour. They are around 1,5 mm in length and they become browner as they moult and reach maturity. Insects at the larva stage can often be almost red in color.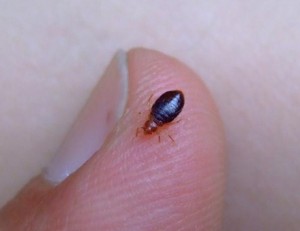 HOW BIG ARE BED BUGS? Bed bugs are certainly very visible..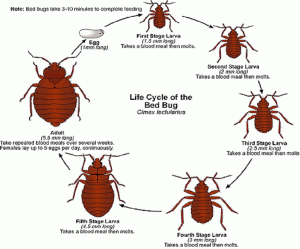 CAN YOU SEE BED BUGS ? Yes.. Here you can see the different sizes of bed bugs at their various life stages.
Click twice on the images to enlarge them.
Please search this website for more information on bed bug treatment and prevention
How Big Are Bed Bugs
Last Update: 18.07.2018
It's hard to say exactly how big bed bugs are, as they need to go through 7 stages in order to complete their life cycle. In each particular stage, the bed bug changes its size, appearance and behaviour, that's why we decided it would be best to give you a deep description of the bed bug's size in all phases.
Bed Bug Eggs Size
The size of the bed bug is not constant as it goes through many life stages before it reaches maturity. The lifecycle of the bed bug contains 7 stages (5 of each larva) and the insect grows progressively in each of them.
Size of a Bed Bug Egg
The bed bugs eggs are the first stage of the cycle and at that time it is about 1mm long. It's white and is very distinctive. You will see many of these at the place of infestation – usually under the mattress of the bed. If you notice bed bugs there, make sure to treat the bed bugs on the mattress properly.
First Stage Larva Size – Nymph Phase
During the first stage of the larva, the bed bug grows in size a little bit and reaches a length of about 1.5mm. In this phase, the bed bug isn't sexually mature yet and the nymph needs to complete a moulting stage that may happen only after the first blood meal. In this phase, the insect is usually white or light yellow.
Second Stage of Bed Bug Larva
When the insect reaches this larval stage, it grows with additional 0.5mm and becomes 2mm long. To go further, it needs to feed with blood again to complete another molt stage. The colour becomes darker than the first stage. The insect gets a red-brown body and distinctively yellow head.
Third Phase of the Bed Bug Life Cycle
Without exception, the bed bugs grow exponentially with additional 0.5mm and become 2.5mm long. It still needs another blood meal for the next molt stage and doesn't change its appearance significantly.
Size of Bed Bugs at Fourth Stage
During this phase, the bed bugs become a little darker and its colour is red-brown. It reaches a length of 3mm and takes another blood meal for the penultimate moult phase. Luckily to everyone, professional pest treatments can take care of bed bugs in all of their life stages.
Fifth Larva Stage
This is the last larval stage of the bed bug and it's also the phase during which the bed bug goes through the molt stage for the last time. At this time the bed bug increases its size significantly with about 1.5mm and becomes 4.5mm long. This growth is 3 times higher than in the previous stages.
The bed bug's body shape also alters a little bit and the back of the insect becomes wider.
Adult Bed Bug – Last Stage of the Life Cycle
This is the 7th and final phase of the bed bug's life cycle. It's the time when the bed bugs reach its limits in terms of size and maturity. It becomes about 5.5mm long and is now able to take repeated meals instead of just one. There aren't any molt stages at this time.
The adult female bed bug is able to lay up to 5 eggs each day and this repeats until the end of the bed bug's life cycle. This makes this insect able to multiply really fast. That's why it's reasonably to exterminate them immediately when you spot the bugs. If you can't deal on your own, don't hesitate to seek help for professional bed bug extermination.
When completely fed, the bed bug changes its form slightly. It becomes a little longer and thinner. If you notice any of these, it means they've just finished feeding and best to not be smashed as it this will leave a blood spot on your sheet, mattress or furniture.
What is the size of a bed bug full of blood?
How big do bed bugs get, you probably wonder, don't you? When completely grown, adult bed bugs can reach a size of about 5.5mm long. While feeding with blood their diameter grows mostly in length. This means that right after the feast a bed bug can significantly increase the size of its diameter and becomes about 6mm long.
The crawling insect needs roughly 3-10 minutes to become fed up with its victim's blood, often leaving a severe rash and itchy bite marks after that.
How Big Are Bed Bugs Compared to Fleas
Fleas are significantly smaller than the bed bugs but this can hardly be seen with naked eye. The average size of an adult flea is 3mm which is about 2 times smaller than the average adult bed bug (5.5mm – 6mm).
Both bed bugs and fleas can cause severe problems to humans such as:
Itchy bites;
Raches;
Psychological effects.
While bed bugs prefer to bite humans and rarely animals, it's exactly the opposite for fleas – they prefer to attack animals and bite humans pretty occasionally.
How Big Are Bed Bugs Compared to Ticks
The only similarities bed bugs and ticks have are the following:
Both are flat:
Wingless
They bite people;
Feed on people's blood.
Now the differences. While bed bugs are insects, having 6 legs, ticks are arachnids (an adult tick has 8 legs) such as the spiders.
While in unfed condition, adult female black-legged ticks (red and brown coloured) are approximately from 3 to 5mm long. After being engorged with blood meal, female ticks change not only their size (about 10mm long) but also their colour appears darker.
Adult males are smaller than females and are uniformly brown in colour. Nymphs are between 1-2 mm long, also eight-legged and larvae are less than 1 mm long (about poppy seed sized) and have only 6 legs.
Matteo Grader is a senior pest technician and specialises in bed bugs treatments. He is knowledgeable and has experience in treating a wide variety of pest infestations in and around London. He likes helping people get rid of their pest problems and is always happy to explain to people how to prevent such problems.
How Big Are Bed Bugs?
Are Bed Bugs Big Enough to See?
Since the size of an adult bed bug is similar to an apple seed, most people can see the pests without magnification. However, because these insects are nocturnal and cryptic, they are experts at avoiding detection. Bed bugs feed while humans are asleep, so residents typically have to rely on other signs to notice an infestation.
How Big are Bed Bug Nymphs?
Juvenile, first stage nymph bed bugs are about the size of a pinhead and have translucent bodies. These nymphs gain color after feeding, but they are hard to see before a blood meal. It takes around six weeks of molting until the pests reach their adult bed bug size, so populations often grow unchecked.
Can a Bed Bug's Actual Size Change?
The average adult bed bug size ranges from 1/4 to 3/16 of an inch in length. Their flat, wide bodies look significantly bigger after they've taken a blood meal, so a bed bug's actual size varies depending on whether the pests have fed. Once engorged, the pest's body expands into a longer, more cylindrical shape.
Controlling Infestations
In addition to a bed bug's small size and feeding schedule, the insects breed quickly. As a result, infestations easily get out of hand. Homeowners with concerns about bed bugs can call Orkin for professional removal.
How big are bed bugs? – see pictures to compare their size
Bed bugs are a real nuisance if you have them in your home, but one of the things many people are unsure of is what these insects look like, their shape, their appearance and to know what size they grow to. Before calling a pest control expert, how do you knowbedbugshave invaded you home or room and not something else, such as other types of beetle? And of course if you have never seen one before you may wonder how to identify them. Read here to find out how to get rid of them for good. –>
What do bed bugs look like to the human eye?
The first things to look out for is bug bite marks on the skin and other possible symptoms before assuming a bug invasion. A correct identification is necessary for the proper treatment needed, if any. The picture below shows what bed bug bites look like. If you or one of your children have bites likes this and they are sore and itchy, it could well be the result of bedbugs. It's always best to check with a doctor just to make sure it isn't some other condition. See thebed bug picturesand photos below to get an idea of what to look out for. For pictures of baby bed bugs click here –> –>
Picture of bed bug bites
They tend to show up as dark brown colour so are quite easy to spot against a whole bed sheet or duvet.
–>
If you do suspect an infestation, you will need to turn over all your bedding, duvet covers, pillow cases and all around the mattress. This photo shows what they look like on bed covers.
Pictures of bed bugs on mattress
What size are Bed Bugs?
What is theactual size of bed bugs? Well it depends. Bed bugs grow significantly though their life cycle and can start of quite small from the nymph stage before becomingadult bedbugs. After feeding on human blood, they can also swell to about twice normalbed bug size. Also they lay eggs which are a bit harder to see and much smaller, sometimes found on the skin.
The images below will give you a sense of scale andbeg bug sizesnext to a person's fingernail.
Below is a picture of a bed bug nymph
Bed bug nymph -commons.wikimeida.org
So how do I know if I have bed bugs?
If you look carefully, you will be able to find signs of bed bugs around your house. The adult bed bugs, if they have fed recently, will appear as a brown or reddish color, as they feed on human blood. The adult bed bugs are about the size of an apple seed. You may also find bed bug eggs, which are a white color and are a smaller size than a grain of rice.
–>
Treatment options
If you do find any, you will need to treat the infestation thoroughly to get rid of all thebedbug eggsas well, to prevent them returning. For a light infestation, you may get away with just washing all the bed coverings.However, for a bad infestation, you may need to throw all your bedding in the bin and replace your mattress too. If it is a devan bed, these insects can also live inside the bed, so best to replace everything if necessary. It is also well worth checking all your clothing as they can transport themselves on clothes too. Also, it may be worth while calling in aprofessional pest controlcompany who have experience in this area. Click here to discover effective bed bug treatments.
Check out other related posts on our site –
To get back to the home page, click here – DeadPestz
About Us
This website contains advice about how to get rid of all kinds of household pests and bugs. Hopefully you will find the articles and posts helpful.
Bed Bugs FAQs
What are bed bugs?
Bed bugs (Cimex lectularius) are small, flat, parasitic insects that feed solely on the blood of people and animals while they sleep. Bed bugs are reddish-brown in color, wingless, range from 1mm to 7mm (roughly the size of Lincoln's head on a penny), and can live several months without a blood meal.
Where are bed bugs found?
Bed bugs are found across the globe from North and South America, to Africa, Asia and Europe. Although the presence of bed bugs has traditionally been seen as a problem in developing countries, it has recently been spreading rapidly in parts of the United States, Canada, the United Kingdom, and other parts of Europe. Bed bugs have been found in five-star hotels and resorts and their presence is not determined by the cleanliness of the living conditions where they are found.
Bed bug infestations usually occur around or near the areas where people sleep. These areas include apartments, shelters, rooming houses, hotels, cruise ships, buses, trains, and dorm rooms. They hide during the day in places such as seams of mattresses, box springs, bed frames, headboards, dresser tables, inside cracks or crevices, behind wallpaper, or any other clutter or objects around a bed. Bed bugs have been shown to be able to travel over 100 feet in a night but tend to live within 8 feet of where people sleep.
Do bed bugs spread disease?
Bed bugs are not known to spread disease. Bed bugs can be an annoyance because their presence may cause itching and loss of sleep. Sometimes the itching can lead to excessive scratching that can sometimes increase the chance of a secondary skin infection.
What health risks do bed bugs pose?
A bed bug bite affects each person differently. Bite responses can range from an absence of any physical signs of the bite, to a small bite mark, to a serious allergic reaction. Bed bugs are not considered to be dangerous; however, an allergic reaction to several bites may need medical attention.
What are the signs and symptoms of a bed bug infestation?
One of the easiest ways to identify a bed bug infestation is by the tell-tale bite marks on the face, neck, arms, hands, or any other body parts while sleeping. However, these bite marks may take as long as 14 days to develop in some people so it is important to look for other clues when determining if bed bugs have infested an area. These signs include:
the bed bugs' exoskeletons after molting,
bed bugs in the fold of mattresses and sheets,
rusty–colored blood spots due to their blood-filled fecal material that they excrete on the mattress or nearby furniture, and
a sweet musty odor.
How do I know if I've been bitten by a bed bug?
It is hard to tell if you've been bitten by a bed bug unless you find bed bugs or signs of infestation. When bed bugs bite, they inject an anesthetic and an anticoagulant that prevents a person from realizing they are being bitten. Most people do not realize they have been bitten until bite marks appear anywhere from one to several days after the initial bite. The bite marks are similar to that of a mosquito or a flea — a slightly swollen and red area that may itch and be irritating. The bite marks may be random or appear in a straight line. Other symptoms of bed bug bites include insomnia, anxiety, and skin problems that arise from profuse scratching of the bites.
Because bed bug bites affect everyone differently, some people may have no reaction and will not develop bite marks or any other visible signs of being bitten. Other people may be allergic to the bed bugs and can react adversely to the bites. These allergic symptoms can include enlarged bite marks, painful swellings at the bite site, and, on rare occasions, anaphylaxis.
How did I get bed bugs?
Bed bugs are experts at hiding. Their slim flat bodies allow them to fit into the smallest of spaces and stay there for long periods of time, even without a blood meal. Bed bugs are usually transported from place to place as people travel. The bed bugs travel in the seams and folds of luggage, overnight bags, folded clothes, bedding, furniture, and anywhere else where they can hide. Most people do not realize they are transporting stow-away bed bugs as they travel from location to location, infecting areas as they travel.
Who is at risk for getting bed bugs?
Everyone is at risk for getting bed bugs when visiting an infected area. However, anyone who travels frequently and shares living and sleeping quarters where other people have previously slept has a higher risk of being bitten and or spreading a bed bug infestation.
How are bed bugs treated and prevented?
Bed bug bites usually do not pose a serious medical threat. The best way to treat a bite is to avoid scratching the area and apply antiseptic creams or lotions and take an antihistamine. Bed bug infestations are commonly treated by insecticide spraying. If you suspect that you have an infestation, contact your landlord or professional pest control company that is experienced with treating bed bugs. The best way to prevent bed bugs is regular inspection for the signs of an infestation.
This information is not meant to be used for self-diagnosis or as a substitute for consultation with a health care provider. If you have any questions about the parasites described above or think that you may have a parasitic infection, consult a health care provider.
Add Comments: