How Do Bed Bugs Look To The Human Eye
What Do Bed Bugs Look Like to the Naked Human Eye?
Seeing a bed bug is the surest and usually last noticed sign of a pest problem. However, bed bugs' appearance varies in different stages of their development which makes them easily mistaken for other insects.
If you've found an insect on your bed, don't panic just yet.
Continue reading this post to learn how to recognise those blood-sucking creatures.
So, what do bed bugs appear like to the human eye?
To the naked human eye, bed bugs will appear as follows: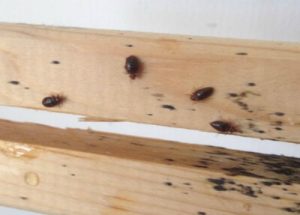 The common adult bed bug looks like a baby cockroach, it's the size of an apple seed – up to 5mm in size. It is light to reddish-brown in colour and has an oval, flat body when not fed. Bed bugs are wingless insects, they have 2 antennae and 6 legs that are not longer than their bodies. Each leg is around 1/2 of the total body length.
Both adults and nymphs' bodies bulge, just like mosquitoes' do when they've had a blood meal. Their size can increase 1-2 times, depending on the bug. Bed bugs need blood to survive and moult which is why they settle near people in the first place. You can easily spot adult bugs around the mattress, the box spring and the headboard.
The tiny baby bed bugs, also known as nymphs, are translucent tan in colour but turn opaque with maturity, after each moult. They moult a total of five times before reaching adulthood. Nymphs are no larger than a sesame seed. When fed, nymphs turn bright red due to all of the digested blood, this makes them easy to identify when noticed. However, their tiny size is the most likely reason why an infestation remains unrecognized for several weeks, allowing the bugs to grow and multiply.
Bed bug eggs are whitish, the size of a poppy seed and have the form of an elongated capsule. In theory, you can see eggs with a naked eye but because of their miniature size, it's quite difficult to recognise them if you're not a professional. If you are inspecting a room, make sure to use a flashlight and a magnifying glass.
Bed bug eggs stick to the surface they were laid on, so removal techniques such as vacuuming are not an option if you were to remove them from a surface. Instead, try some of the other methods that do work.
Are bed bugs visible in all stages of their development?
Technically speaking, yes, however, they do a pretty good job at hiding. This makes it difficult to spot the insects, especially during the day when they aren't that active. Why aren't they active, you ask? Because bed bugs attempt to stay out of sight in order not to be squashed by you.
Instead of looking for a specimen, focus your efforts on pinpointing the different tell-tale signs of an infestation.
Finding any of these is a sure sign of an advanced bed bug problem.
What do bed bugs look like on a mattress?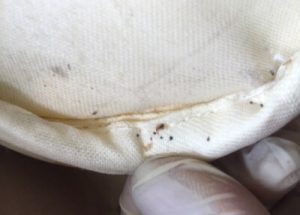 The first place to check for signs of bed bugs is your bed area and mattress in particular. These areas are the closest to their host – you. Bed bugs come out to feed when you are sleeping, blissfully unaware of their presence. It is then that they leave evidence of their presence. Check your mattress and bedding for:
Rusty or reddish spots caused by crushed bed bugs;
Little dark spots the size of a pen mark which may bleed to the fabric, just like inc does. Those are bed bugs excrements;
You can also inspect the crevices and fabric folds of the mattress for:
Eggs, eggshells, and cast skins which nymphs leave behind when moulting;
Adult bed bugs and nymphs.
Why bed bug bites aren't a sure sign of infestation?
Although bites are one sign of bed bug presence, they sure aren't a conclusive one. This is due to a number of reasons:
Some people do not experience any reaction to the bites, thus, you may decide that you don't have bed bugs if you see no sign of bites.
Other insects cause itchy red bumps quite similar to the ones left by bed bugs.
A variety of skin conditions may also look like you've been bitten.
A good strategy to rule for a bug infestation would be:
Ensure there are bites.
Find a bug.
Then check if it is actually a bed bug.
You can start panicking if you've ticked "yes" on all three.
Insects that look like bed bugs
Looks can be deceiving. A number of insects appear similar to the bed bugs, so make sure to check for lookalikes before considering a treatment.
Some of the common UK household bugs that look like bed bugs include: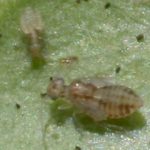 And more precisely, the booklouse nymph looks strikingly similar to a baby bed bug. Some wingless species are often mistaken for bed bugs and vice versa. However, these scavenging insects aren't parasites and do not feed on human blood.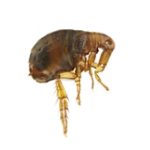 The only reason why people mistake fleas for bed bugs is their shared appetite for blood, visually they are nothing alike. So for example, if you see a tiny insect stuck to your arm at night, you may think at first that it's a bed bug. But their diet is where the similarities end. Fleas, unlike bed bugs, aren't parasitic to humans, they may bite you a couple of times, but their long-term hosts are animals.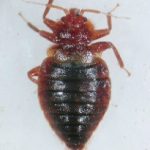 On the contrary, bat bugs are almost identical to bed bugs and the only way to tell the two apart is to observe them under a microscope. Bat bug's prime host it the bat but they will feed on other warm-blooded animals, humans included if they wander away too far or the host is not available.
If you're still unsure whether you've spotted a bed bug, trap the insect and show it to an experienced bed bug exterminator to get a professional opinion.
Get your home inspected by a certified pest technician!
Bedbugs Slideshow: An Informative Look at Bedbugs
Don't Let the Bedbugs Bite
As if you needed something else to worry about, bedbugs, those pests from the old bedtime rhyme are making a comeback. More of a nuisance than a health hazard, they're showing up to suck blood from people in hotels, college dorms, and hospitals. Take an informative look at bedbugs: what they are, where they lurk, and how to spot them before they get you.
Know the Enemy
Bedbugs are small, flat, wingless insects with six legs that, like mosquitoes, feed on blood from animals or people. They range in color from almost white to brown, but they turn rusty red after feeding. The common bedbug doesn't grow much longer than 0.2 inches (0.5 centimeters) and can be seen by the naked eye to the astute observer.В Bedbugs get their name because they like to hide in bedding and mattresses.
Am I at Risk for Infestation?
Bedbugs are most often found in hotels, hostels, shelters, and apartment complexes where lots of people come and go. Because bedbugs hide in small crevices, they can hitch a ride into your home on luggage, pets, furniture, clothing, boxes, and other objects. Bedbugs are found worldwide, but are most common in developing countries. Once rare in North America, they may be on the rise due, in part, to increases in international travel.
Feeding Habits
These nocturnal creatures can hide in beds, floors, furniture, wood, and paper trash during the day. We humans usually become their dinner during the night, with peak biting activity just before dawn.They can obtain their meal in as little as three minutes, after which they are engorged and drop off the host, then crawl into a hiding place to digest their meal. Bedbugs can live for 10 months, and can go weeks without feeding.
Signs and Symptoms of Bedbug Bites
Amazingly, these sneaky little bloodsuckers dine on you without waking you. You don't feel their stealthy bite because they inject a numbing agent into your body, along with an anticoagulant to keep your blood flowing as they suck. The first sign of bedbugs may be itchy, red bites on the skin, usually on the arms or shoulders. Bedbugs tend to leave straight rows of bites.
Treating Bites
Bedbug bites do not usually require treatment. If a secondary infection occurs (usually from scratching), apply a local antiseptic lotion or antibiotic cream or ointment. Creams with corticosteroids and oral antihistaminesare used for the primary, unbearable symptom of itch. In these more severe cases, you may need to see your doctor.
Do Bedbugs Transmit Diseases?
Bedbugs are more of a nuisance than a health hazard. In a recent study, researchers reviewed 53 recent studies on bedbugs and their health and medical effects. The results showed that although bedbugs have been blamed for the spread of up to 40 different human diseases, there is little evidence to suggest they are carriers of human disease.
Bedbug or Imposter?
Don't assume your bites are bedbugs. Bites can be hard to identify, even for doctors. Rule out mosquitoes, fleas, mites, and biting gnats by conducting a visual inspection. It's best to collect and identify bedbugs to confirm bites. Look for the bugs themselves or their bloodstains, especially along the seams of mattresses. Further, look for dark spots of insect waste where bedbugs might crawl into hiding places on furniture, walls, and floors.
Bite Back Against Bedbugs
Professional exterminators should get involved right off the bat—tell your landlord, super, hospital administrator, hotel owner, or you call a professional right up front. The exterminator will locate the bed bugs (which may be found in more than one location) and exterminate as needed. YOU will have to do a lot of laundry.В
Up Next
Next Slideshow Title
IMAGES PROVIDED BY:
(1) Getty Images
(2) Nigel Cattlin / Visuals Unlimited
(3) Brand X Pictures
(4) Mark Andersen
(5) В© Pulse Picture Library/CMP Images / Phototake — All rights reserved.
(6) Dr. Kenneth Greer / Visuals Unlimited
(7) Darlyne A. Murawski / National Geographic
(8) Courtesy of Orkin, Inc.
(9) Thinkstock
New York City Department of Heath and Mental Hygiene.
Ohio State University Extension Fact Sheet.
University of Kentucky College of Agriculture.
University of Nebraska-Lincoln Extension Lancaster County.
Washington Post.
Reviewed by Sabrina Felson, MD on May 17, 2018
This tool does not provide medical advice. See additional information.
THIS TOOL DOES NOT PROVIDE MEDICAL ADVICE. It is intended for general informational purposes only and does not address individual circumstances. It is not a substitute for professional medical advice, diagnosis or treatment and should not be relied on to make decisions about your health. Never ignore professional medical advice in seeking treatment because of something you have read on the WebMD Site. If you think you may have a medical emergency, immediately call your doctor or dial 911.
WebMD Slideshows
View our slideshows to learn more about your health.
Bed bug bites: What you need to know
If you buy something through a link on this page, we may earn a small commission. How this works.
Most people who are bitten by bed bugs experience symptoms that include irritation, sores, or itchiness. But how should bed bug bites be treated and can they be prevented?
There are several ways of reducing the chances of getting bites, while the treatment options include good hygiene and antihistamines.
This article explores bed bug bite treatment and prevention methods in detail.
Bed bugs are small parasitic insects that feed on human blood.
While they are a public health concern, bed bugs are not known to transmit disease through their bites.
Bed bugs use a small tube-like structure called a proboscis to pierce the skin and drink a person's blood. The pests are most active when humans are asleep, during the night and early morning.
An estimated one in five Americans have personally dealt with a bed bug infestation or knows someone who has encountered the pests.
Bed bugs can bite anywhere on the body where there is skin. Typically, bites tend to occur on areas exposed during sleeping, such as:
Many people do not feel the bite itself or develop clear symptoms other than the dots where the bug bit and some minor, surrounding inflammation and irritation. Others are considered hypersensitive to bites and develop more severe symptoms.
In most cases symptoms occur more or less immediately after the bite, but they can develop or progress over the following days as well. Without further irritation, symptoms typically resolve after a week or so.
Almost all bed bug bites will produce some degree of discomfort, typically itchiness and inflammation. Other signs and symptoms of bed bug bites include:
a burning painful sensation
a raised itchy bump with a clear center
a red itchy bump with a dark center and lighter swollen surrounding area
small red bumps or welts in a zigzag pattern or a line
small red bumps surrounded by blisters or hives
papular eruptions or areas of skin with raised or flat patches that may be inflamed
small spots of blood from bites often dried or stained onto sheets or bed clothing
reddish or reddish-brown dried stains on fabrics due to bed bug droppings
white or clear skins, shed by the nymphs as they mature
Individual characteristics of the bug's bite and the person who is bitten also influence the resulting sore.
While fairly rare, some people have or develop severe reactions and symptoms from bed bug bites. Serious symptoms that require medical attention include:
difficulty breathing
blisters
fever
feeling nauseous or flu-like
swollen tongue
irregular heartbeat
Living with bed bugs can cause additional health complications:
Increased likelihood of infection: Due to the skin's surface being compromised.
Sleep deprivation: The idea of being fed on can be extremely stressful. Given that the bugs only feed at night, some people will avoid sleep or will only get fitful or restless sleep.
Decreased wellbeing: A continual lack of sleep has been linked to feelings of depression, anxiety, general fatigue, and lowered immune function. The misconceptions surrounding bed bugs, especially the mistaken association with lack of cleanliness, can add to feelings of depression and low self-esteem.
There are relatively few treatments options when it comes to uncomplicated bed bug bites.
The first recommended line of treatment involves cleaning the wound, ideally with soap and water.
For itchy bites, the following may relieve minor symptoms:
over-the-counter hydrocortisone, which can be purchased online.
anti-itch creams
antihistamines
Most wounds heal on their own within a week, sometimes two.
If severe swelling, inflammation, or itchiness occurs or persists, a person should seek medical attention.
A dramatic immune response may be a sign of an allergic reaction. If this is the case, one of the following may need to be administered:
an injectable corticosteroid
antihistamine
epinephrine medication
If infection occurs, antibiotics may be prescribed.
Severe itchiness may result in further complications, such as infection or scarring. If severe itching is experienced, people may be prescribed corticosteroid creams and antihistamine pills or liquid.
One way to help prevent exposure and potential infestations by bed bugs is to be able to recognize bed bugs and distinguish them from other pests.
In a 2017 study, some 35 percent of polled American business travellers and 28 percent of leisure travellers were unable to tell a bed bug apart from other household pests.
Common characteristics of nymphs (young bed bugs) include:
being less than than 5 mm in length
whitish-yellow and or clear-colored
invisible without a microscope or magnifying glass
The nymphs are easier to see if they have just feed when the blood fills their abdomen, giving it a reddish brown color.
Adult bed bugs are typically far easier to spot than nymphs. Identifiable characteristics of most adult bed bugs include:
an oval-shaped body
apple seed in size
a body that is fairly flat unless recently fed and inflated
reddish-brown to light-brown or tan color of shell, depending on how recently it fed
a length of 5-7 millimeters (mm)
three segments, an antenna with four parts, short yellow hairs, and unusable wings
a musty or stale-sweet scent released by glands on the underbelly
Controlling bed bugs needs the identification and complete removal or destruction of the pest's eggs.
On average, one female can produce at least 345 eggs over her lifetime. Egg-laying females often increase the volume and frequency of feeding to support their brood.
Common characteristics and signs of bed bug eggs include:
they are often laid in the same places where the female choses to rest
they resemble tiny barrel-shaped, pearl-colored specks, no bigger than the head of a pin
they develop a noticeable eye spot after a few days
The key to preventing bed bug bites is to stop the insects entering, feeding, and breeding in human environments.
In the daytime, bed bugs often seek refuge in the cracks and crevices of furniture, flooring, walls, and mattresses.
The seams and folds of upholstered furniture can also offer an ideal hiding place. Bed bugs have been known to persist in vacuum canisters or units.
The insects tend to pick hiding spots near human sleeping quarters, including bedrooms. Bed bugs found in other rooms are usually a sign of a severe infestation.
Areas where bed bug infestations commonly occur include:
apartment or condominium buildings
large office spaces
hotels
vacation rentals
cruise ships
daycares
nursing homes
hospitals
college dormitories or housing units
public transportation, including airplanes
shopping malls
furniture or second hand stores
urban areas
rented homes
Items commonly responsible for spreading bed bugs include:
used or secondhand furniture
new furniture or textiles exposed to bed bugs during transit
items of luggage
chairs or loungers where people fall asleep
bedding or bed clothes
moving or storage boxes
shipped items, especially if held at several locations or warehouses
Bed bugs do not have a preference between sanitary, messy, or unsanitary conditions.
They can, however, be found at higher rates in places, such as hotels, if infestations are not properly cleared.
Everything you need to know about bedbugs
If you buy something through a link on this page, we may earn a small commission. How this works.
Bedbugs are small, wingless insects that feed exclusively on the blood of warm-blooded animals. Humans are the preferred hosts for the two main species.
There are two species of bedbugs that are known to feed on human blood. They are known scientifically asCimex lectulariusandCimex hemipterus. They have been found in the tombs of ancient Egyptians from 3,500 years ago.
Over millions of years, bedbugs have evolved as nest parasites, inhabiting the nests of birds and the roosts of bats. Some of them have learned to adapt to the human environment.
Newborn bedbugs, called hatchlings or nymphs, are tiny but visible and about the size of a poppy seed. Adults grow to about 0.25 inches long with an oval and flattened shape when they are not feeding. After feeding, they can double in size. Nymphs, eggs, and adults are visible to the naked eye.
They are called bedbugs because of their preferred habitat in human homes: Sofas, bed mattresses, clothing, and other soft furnishings. They also prefer the dark.
Bedbugs are seen as a growing problem within all types of dwellings, including private homes, dormitories, cruise ships, army barracks, and shelters.
When seen close up, their color may range from a white, light tan to a deep brown or burnt orange color. When they have fed, a dark red or black blob may be observed within their body. They seek shelter in dark cracks and crevices when disturbed.
Fast facts on bedbugs
Bedbugs are small wingless insects that feed on the blood of warm-blooded animals.
Most bedbugs feed on their hosts while they are asleep.
The peak time for feeding is between midnight and 5 am.
Bites can be seen quickly but may take up to 14 days to become visible.
Bed bugs need to feed regularly to reproduce, lay eggs and survive.
Share on Pinterest A bedbug may cause a coriander-like smell.
The most obvious sign of bedbugs in the home is that people complain of bites that occurred while they were asleep. If this happens, examine the bedrooms for bedbugs and signs of bedbug activity.
Look carefully in bed linen and the seams and tufts of mattresses and box springs for bugs or eggs. The eggs will look like tiny, pale poppy seeds.
Signs of bedbug activity may occur beneath loose areas of wallpaper near beds, in the corner of desks and dressers, in the laundry, and in drawers.
Keep an eye out for dark brown or rust-colored bedbug droppings that stain material and mattresses. Bedbug excrement is a liquid that looks either light brown or black, and it usually either beads up or is absorbed by the material around it.
A large population of bedbugs may produce a coriander-like odor.
Treatment focuses on relieving symptoms and includes:
topical creams, such as cortisone, to relieve itching
an oral antibiotic, if infection occurs because of skin irritation around the bite
corticosteroids, if a person has a severe allergic reaction
antihistamines, to help relieve allergic reactions
Most bites heal within 1 and 2 weeks of occurrence.
Some of these treatments are available for purchase online, including cortisone and antihistamines.
Since bedbugs can hide in a wide range of places in the home, they are not easy to remove. It is advisable to bring in a pest control professional.
Removing excess clutter from the house, giving the bedbugs fewer places to hide, makes inspection and removal less difficult.
Some pest control companies request that furniture is pulled away from walls and mattresses and box springs stood on edge before they enter the home. Other companies prefer everything to be left where it is so that they can perform a check before moving the furniture themselves.
Scientists at Ohio State University have determined that combining the chemical signals of bedbugs with a common insect-control agent can make it an effective treatment for killing the bugs.
Most bedbugs feed on their hosts while they sleep. They draw blood in a painless way.
While feeding, they inject a small amount of saliva into the host's skin. If they feed on one particular person for several weeks, the individual may become more sensitive to their saliva and the chemicals that it contains. The host might eventually develop an allergic response.
Bedbugs, like fleas, tend to bite in rows. There are likely to be two or three bites in each row. This is probably because the bedbug is interrupted while feeding, and then comes back about half an inch further down for its next bite.
Bites can take up to 14 days to become visible but often appear within several days. Bedbug bites are larger than fleabites and do not usually have a red dot at the center. The bites tend to be raised and red.
They can be scattered or occur in clusters of three over the paths of blood vessels, known as the "breakfast, lunch, and dinner sign."
Most people who are bitten show no symptoms at all and often do not know it happened. This makes it more difficult to prevent or identify potential infestations. Some individuals, however, may become ill and nauseous. It is possible to get scars and skin infections from scratching the bites.
Very rarely, people might have an anaphylactic reaction to bedbug bites. It is possible but rare to have an asthmatic reaction to bedbugs.
Bedbugs are adaptable, and there are many ways in which a bedbug infestation can occur.
They may get into a new home as stowaways when luggage, furniture, and bedding is moved in. People should be careful when purchasing second-hand furniture and should never purchase used mattresses. A careful visual inspection should allow a person to detect bedbugs or their droppings.
Even vacant and seemingly clean homes may have bedbugs in them. They can survive for over two months without any food. It is also believed they can move from apartment to apartment through hollows and holes in the walls and the tubes through which wires and pipes run.
Bedbug infestations can be difficult to prevent.
It is possible to encase both the mattress and box spring in a protective cover, as some people do for allergy relief. Some pest control firms sell them, as well as a number of retail outlets. Click here for a range of products that can help to protect a bed against infestation.
Once encased, any bedbug trapped inside and prevented from feeding will eventually die. Some people keep their new beds encased, as it prevents the bugs from getting into the crevices in the mattress and makes it easier to keep the surface clean and bug-free.
When traveling, avoid putting luggage on the bed to reduce the risk of bringing bedbugs home in a suitcase. It is also worth vacuuming any luggage after you return home and making sure you get rid of the contents of the vacuum in a tightly sealed bag. Dispose of this bag in a trashcan outside.
Separate travel clothes from laundry and immediately wash them in hot water.
If you spot bedbugs in the home, call a professional and do not attempt to resolve the infestation. Bedbugs can spread from room to room in clothing, and trying to remove them yourself can often make the matter worse.
Although they are not known to carry diseases, bedbugs can affect an individual's quality of life, causing distress, discomfort, embarrassment, and broken sleep.
Here are the important facts to have in mind when trying to remove or identify a bedbug infestation:
The peak time for feeding is between midnight and 5 AM. Hungry bedbugs will try to feed at any time, but they do not like sunlight and prefer the dark. One feed will take between 5 and 10 minutes. The bug will then return to its hiding place.
Bedbugs will feed every 5 to 10 days. They can, however, last for about 70 days without feeding. A well-fed bedbug has a lifespan of several months.
They find their host by seeking out human body heat and sensing the presence of the carbon dioxide on the breath.
A bedbug will pierce the skin of its host with its mouth part. It first injects saliva that is a mixture of an anesthetic, so that the host feels nothing, and an anticoagulant so that the blood flows out freely. It then sucks out blood until it is full. The bites are not noticeable until after the skin reaction has occurred. According to the Centers for Disease Control and Prevention (CDC), it can take up to 14 days for bites to appear.
Bedbugs can only reproduce when they have reached maturity. A female bedbug lays approximately seven eggs in a day and hundreds during her lifetime.
A review of bedbug research conducted in 2016 found that while they are highly resistant to removal methods, bedbugs seem to be more of a nuisance than a serious health problem. Research has failed to show any link between the bedbugs associated with humans and human disease.
The biggest risk for humans comes from secondary bacterial infection. With bedbugs, this would occur as a result of scratching the skin. Scratching, if it breaks the skin, allows normal bacteria from the surface of the skin to penetrate deeper.
The source of any bacterial infection is, therefore, the human host and not the bedbug.
How do bed bugs look to the human eye
Bed bugs are small insects that feed on the blood of mammals and birds. Adults are oval, wingless and rusty red colour and have flat bodies, antennae and small eyes. They are visible to the naked eye, but often hide in cracks and crevices. When they feed, their bodies swell and become a brighter red. In homes, they feed primarily on the blood of humans, usually at night when people are sleeping.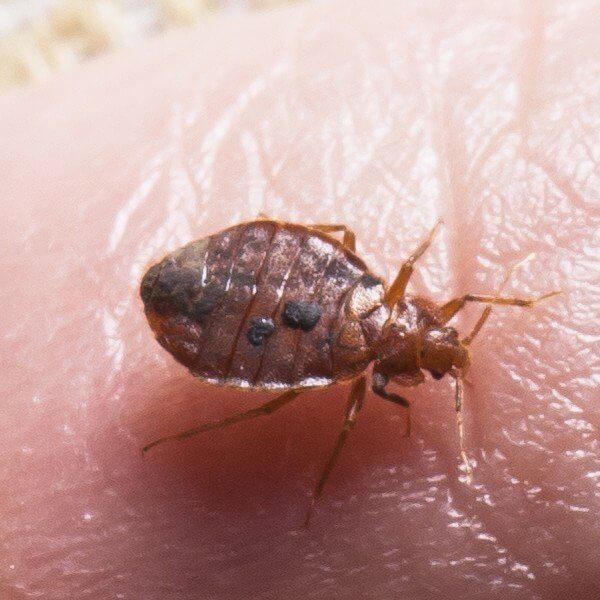 Why are they called Bed Bugs?
The name of the "bed bug" is derived from the preferred habitat of the bed bugs which is the beds and bedding or other sleep areas. Bed bugs are mainly active at night but are not exclusively nocturnal. They usually feed on their hosts without being noticed.
Where do Bed Bugs come from?
Bed bugs are not native to Australia. They originate from Europe and Asia and were brought to Australia by travellers.
What do Bed Bugs look like?
What are Bed Bugs Signs & Symptoms?
The first signs and symptoms of a bed bug infestation may be the presence of bites on family members. A thorough inspection of your bed, mattress, surrounding areas and the common hiding spots may also reveal the bed bugs and their castings themselves, however, due to their size, they are often hard to see. Another sign would be small blood stains from crushed bugs on sheets or mattresses or rusty or dark spots of bug excrement on mattresses, bedding or walls. When bed bug infestations are severe an offensive, sweet, musty odour from their scent glands may be smelt.
Find the Bed Bug bite picture below
Do Bed Bug bites carry infections?
Bed bugs are known to cause a number of health problems, including skin welts, infected bites, scars, psychological effects and allergic reactions. They are infected by more than 30 human pathogens, but so far no study has found that can transmit these pathogens to humans.
What do Bed Bug bites & rashes look like?
The bites of a bed bug has a number features such as large welts that diminish to a red spot that slowly fade over a few days, itchiness, reddening of the skin, localised swelling, formation of blisters and scars if the bed bug bites become infected.
Treatment for Bed Bug Bites
So far bed bugs are not known to transmit blood-borne diseases such as HIV or malaria; although the bites can be extremely itchy and distressing. Treatments include using calamine lotion or anesthetic creams to treat the itching, wash the bites with antiseptic soap to reduce the risk of infection, apply an ice pack frequently to help relieve swelling and resist the urge to scratch. Do your best not to scratch because it can cause an infection.
What Causes Bed Bugs?
Bed bugs and their eggs are accidentally brought into your property by visiting an infested property or having a guest from an infested property stay with you. They are also brought in by infested items such as furniture, clothing, and backpacks. They are also known to enter your residence via close dwellings through the air duct or false ceilings. Bed bugs also come from people visiting an infested area such as a subway, movie theatre or hotel.
How long do Bed Bugs live?
The typical lifespan of a bed bug is about 10 months and they can survive for weeks to many months without feeding.
What is the Bed Bugs Life Cycle?
What is natural control treatment?
Bed Bug Killer (Diatomaceous Earth) is a non-toxic bed bug killer. Steam is also a non-toxic bed bug killer.
The Bed Bug Barrier Control System offers a low cost and natural DIY pest control system with a step by step instructional video.
How to kill Bed Bugs in Australia?
Australia's only non-toxic and long term bed bug solution can be found at Bed Bug Barrier. The best bed bug treatment is Bed Bug Killer powder. Bed Bug Killer is a natural non-toxic treatment for bed bugs. Bed Bug Killer powder also gives years of on-going protection.
Where do Bed Bugs hide?
Bed bugs can live in any area of a property and can live in dark tiny cracks and crevices. They tend to be most common in areas where people sleep and usually more concentrated in beds, including mattresses, bed bases and bed frames. Other sites where bedbugs often live include curtains, edges of carpet, corners inside dressers and other furniture, cracks in wallpaper particularly near the bed and inside the spaces of wicker furniture.
Why do Bed Bugs spread to other rooms?
Bed bugs usually spread to other rooms or apartments when toxic chemicals are used which force the bed bugs to find safer nesting areas.
How to find Bed Bugs in the mattress?
Inspect the entire mattress for bed bugs, eggs, castings, blood spots and faeces. Use a bed bug proof mattress encasement to trap bed bugs and their eggs inside the mattress to kill them.
How to kill Bed Bugs in the mattress?
It is not a good idea to use chemicals on the sleeping mattress, instead, use a Bed Bug Proof Mattress Encasement to kill bed bugs living on the mattress and remove the nesting area for the bed bugs.
What do Bed Bug eggs look like?
Bed bug eggs are almost invisible to the human eye, they are white and tubular in shape.
Add Comments: