How Do Bed Bugs Transfer From House To House
How do bed bugs transfer from house to house
A look at how do you get bed bugs, how they spread in your home, where do the bugs live and hide as well as how to check for the symptoms of bed bugs.
Most people heard this little ditty growing up:
"Good night, sleep tight;
don't let the bed bugs bite!"
As kids, most of us found that amusing. Bed bugs are no laughing matter, however; they are repulsive blood-sucking parasites. Their scientific name is Cimex lectularius. Like mosquitoes and ticks, bed bugs are insects that feed on blood. They are small (an adult is about a quarter-inch long), flat and oval-shaped.
Where Do Bed Bugs Live And Hide?
Bed bugs are particularly well-adapted to live parasitically on humans. So where do bed bugs live and hide? No bigger than apple seeds, they typically hide in tiny cracks in headboards, on bed frames, deep in mattresses, inside electrical outlets, as well as in furnitures. Bedding and mattresses provide the ideal breeding ground for these pests; the warmth and moisture – plus the warm bodies of hapless sleepers to feed on nightly – make the bed a perfect hiding place and home for them.
How Are Bed Bugs Spread And How Did They Get In My Home?
Bed bugs spread when an individual comes into contact with them in an infested room or apartment. Contrary to common belief, bed bugs are not attracted to dirt or filth and do not discriminate when it comes to infesting homes of both the rich and poor.
They have been reported to be found from the dingiest budget motels to the swankiest five-star resort – and these tiny pests spread by hitching a ride back to the victim's home through the luggage or clothing.
Bed bugs can also sometimes spread through secondhand clothing bought at yard sales, from used furniture picked up off the curb or from refurbished items sold in stores.
Once the bugs are in your home, they will crawl their way into bedding or furniture upholstery where they stay dormant during the day but come out at night to feed on their victims.
How To Check For Bed Bugs: Signs And Symptoms
Like mosquitoes, ticks and vampire bats, bed bugs have evolved the remarkable ability to generate a natural anesthetic; as a result, people rarely actually feel the bites when bed bugs are feeding. Once bitten, however, the result is fairly noticeable. Like a mosquito bite, the bitten spot tends produce a reddish welt that itches a great deal.
One of the specific markers for bed bug bites is the presence of welts in rows; three or four welts that often appear on the skin very close together. This is because the insect responds to small movements as people sleep. It pulls out of the skin and continues with another bite right next to the first. In addition, several of the critters may be feeding side-by-side.
Another way of detecting the presence of bed bugs is to inspect your mattress and bedding. Are there any unusual small, reddish-brown stains on the bed sheets? These could be indicative of bed bugs which fed and were subsequently crushed, spilling their blood meal on the mattress or mattress cover.
To sum up, if you suspect you have been bitten by a bed bug, look for the following:
Rows of red, itchy welts on the skin that appear in a linear or clustered pattern
Consistent new bite marks or bumps that appear on your body every day
Reddish or brownish (dried blood) stains on mattresses or bedding
Tips To Prevent And Keep Bed Bugs Out Of Your Home And Bed
With rising reports of bed bugs infestation across various cities in the United States and around the world, the following are some simple prevention steps one can take to protect oneself:
Do not pick up second-hand furniture off the street even if it look great. If you bought or rent a used furniture, have it inspected before bringing it back home.
If you travel, first check out Bed Bug Registry for any reports of bed bugs in the hotel you intend to stay. Once in the hotel rooms, always inspect the hotel mattress, sheets and headboards for any signs of bed bug activities.
When returning home from your travels, immediately have your luggage inspected in the bathroom tub and dump all the clothing to be washed in hot water (minimum 120В°F) for at least 20 minutes.
Reducing clutter around the house and regular vacuuming to limit areas where bugs can hide.
Invest in a bed bug proof mattress encasement to protect against an infestation inside the mattress as well as guard against bed bug bites.
Apply pesticides like bed bug spray and powders to defend your perimeters around the apartment, house or bed.
You May Also Be Interested In:
Bed Bugs Travel Prevention Tips- How to avoid and prevent bed bug infestation while you travel.
How To Kill Bed Bugs– Discover what are the best ways to get rid of bed bugs for good.
Bed Bug Pictures– See and identify what do bed bugs and their bites look like.
This website's mission is to provide comprehensive information about bed bugs .
Popular topics include how to kill bed bugs , bed bug rash , bed bugs treatment and what do bed bugs look like .
Do Bed Bugs Travel on People?
Travel Tips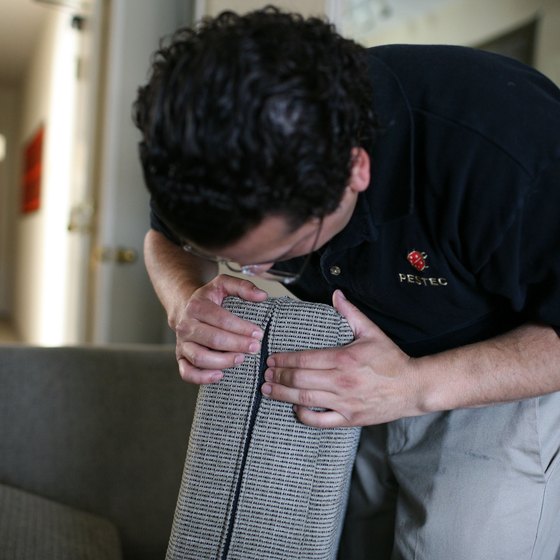 Believe it or not, bed bugs can travel via human hosts. (Photo: Justin Sullivan/Getty Images News/Getty Images )
Related Articles
They're creepy, they're crawly and they're often quite difficult to spot. Bed bugs – blood-sucking, tiny parasites that dine on human and animal hosts – have become a concern worldwide due to their stealthy ways of getting around. Unfortunately, the little critters are more mobile than we would like to think.
Bed Bug Bites and Basics
Bed bugs – named for one of their favorite hangouts – tend to be found in linens, between cracks in mattresses and even in cracks and crevices in the floor. They leech off their human or animal hosts, with bed bug bites leaving scabby trails of rashes and marks across the skin. Because they are mostly active at night, it can take awhile for a person to notice that his home or hotel room has bed bugs.
How Bed Bugs Spread
Not everyone is aware that bed bugs can be spread via humans: if a person goes to a hotel room that has bed bugs, and the bed bugs hide out on the person or on the person's luggage, the bed bugs can be spread to a new location. Because of this, no house is safe from a bed bug infestation. Bed bugs can spread from house to house, living in even the cleanest conditions; bed bugs are not a sign that a person's home is dirty or unkempt.
Looking for Bed Bug Evidence
If you suspect that your home has been hit by bed bugs, look for the following telltale signs: small scabs or rashes in a line-like pattern on your skin, small fecal droppings or small blood smears on your sheets. The bed-bug bites will most likely be across your face, arms, or legs – the areas that are not covered by your pajamas as you sleep. Remember, though, that not all people will develop a rash if being bitten. You'll also want to check for bugs in your mattress and in your luggage by closely inspecting them.
Eradicating Bed Bugs for Good
Though a variety of sprays and ointments are out there marketed as beg-bug killers, the truth is that many of these products do not work. You can attempt to rid yourself of these pests by vacuuming every inch of your apartment and by putting your linens in a dryer set on the highest setting. While it's rare to find bed bugs on the clothes you're wearing – they tend to fall off once you start moving – you should still wash any potentially contaminated clothing as well. A severe infestation will require the attention of a licensed exterminator; it can often take more than one visit from the exterminator to ensure that the bed bugs are really gone.
Disclosure
Leaf Group is a USA TODAY content partner providing general travel information. Its content is produced independently of USA TODAY.
Where Do Bed Bugs Come From – How Do You Get Bed Bugs
How do you get bed bugs in your house? Anyone who has ever woken up with a chain of red blisters from the bites of night parasites would wonder where bed bugs come from. In most cases, bed bugs are not transferred to the apartments. The thing is that they live there for decades, not revealing their presence at once. Mostly these insects spread from one apartment to another, but where do bed bugs come from?
It is impossible to answer this question because they just spread through the building being attracted by the presence of humans. How do bed bugs get in bed? After penetration into the premises, insects hide under the beds, in the wardrobes, under the carpets, behind the baseboards, in the cracks of furniture and in mattresses. These insects prefer to settle in places where they can bite people during night time.
In suburban areas bed bugs find human dwelling using their sense of smell. Then insects move to the buildings from chicken coops and rabbitries, where they parasitize on the skin of medium-sized animals. However, bed bugs parasitism on other mammals and birds is more like an exception, because these insects usually feed on human blood.
Bed bugs are not very mobile insects. They cannot fly and run much slower than cockroaches, but they can survive without food for quite a long time. Thus, bed bugs can travel for long distances. How do bed bugs spread? Despite the fact that these parasites cannot run fast, they spread through the apartment considerably quickly. They move freely through ventilation holes, electrical wiring channels and cracks in doors. Due to flat shape of their bodies these insects are able to crawl even where no cracks or holes are visible. It is impossible to isolate an apartment from bed bugs because they come through the outlets and by the outer walls through the windows. It is especially true for the apartments in old high-rise buildings and the houses built in the countryside.
How Do You Get Bed Bugs in Your House
First, people get bed bugs by bringing them home from journeys. For example, bed bugs can be in the luggage and the things brought from the trips, to the warm countries in particular. Tropical Egypt, Thailand, Indonesia and India seem to be a paradise for thermophilic bed bugs. Thus, travelers have to remember that the last place they traveled to before the bugs appearance is the most likely to be a historic homeland of the blood-sucking parasites. In this case, you can bring a single adult female that may lay eggs and give rise to a new population. You should be cautious because these insects can hide or accidentally fall into the pleats of the clothes, into the suitcases, bags and footwear, and travel through several time zones. This way of getting bed bugs is particularly relevant for backpackers, who often change hotels.
One more common method of how bed bugs come to the new house is hiding in the furniture, especially in the new one. In furniture factories or stores bugs have nothing to eat; thus, new products are not infested. Pieces of furniture from infested houses and apartments are, on the contrary, the main breeding ground for these parasites.
People can also get bed bugs on clothes. Although these insects prefer to bite open skin areas, they often hide in the clothes left in the apartment or taken off before going to bed. Thus, you can bring bugs into your house by visiting the infested house or taking guests from such a place. Moreover, there are known cases when bed bugs were found in expensive clothing shops in unworn clothes. The insects got there from people who lived in the infested apartments or from neighboring premises.
Furthermore, bed bugs can get into the house with new appliances. These insects prefer to spend the daytime in warm places. Thus, they can stay in laptops, tablets, scanners, microwave ovens, and any other appliances, and be transferred to a new place from the store.
Moreover, bed bugs can get into the apartment being carried by animals. It is a very rare way of transferring these insects, but it may happen too. Despite the fact that bed bugs do not feed on cats and dogs because they cannot bite their skin tissue, these pets can transfer the parasites. Moreover, bats and birds can be transmitters of these parasites as well.
Thus, once appeared in the house, bed bugs can spread through the entire apartment. They can inhabit all the places where they can be caught only by the professional desinfectants. Moreover, bed bugs can fall into anabiosis because of the absence of food. Thus, the bugs can stay in uninhabited apartments for more than a few months. A flat can be perfectly clean at first glance, but insects and their larvae will crawl out of the cracks as soon as they smell a human body.
How Do Bed Bugs Travel?
Bags & Personal Belongings
Bed bugs are transported by people, most often in personal belongings such as the following:
Luggage & Suitcases
Purses
Gym bags
Items kept close to sleep areas
They can hide in your personal belongings, or even on you, and hitchhike a ride back to your home, condo, townhouse or apartment.
Many people ask if bed bugs can jump, but they can't and dont travel that way.
Where do you pick them up?
It's possible to pick up bed bugs almost any place – they've infested offices, stores, hotels, gyms and countless other places.
Prefer people over pets
The common bed bug prefers to feed on human hosts and does not prefer pets or other furry animals.
Bed bugs are easily transported into previously non-infested dwellings.
Once indoors, they can be extremely difficult to control without the help of an experienced pest specialist.
If you suspect you may have picked up some of these hitchhikers in your travels, call Orkin for a comprehensive bed bug inspection and assessment and implementation of a treatment solution.
What NOT to Do When you Have Bed Bugs
View this page in another language
Do not Panic. You can control bed bugs with careful inspection and by using proper control methods.
Do not try to kill bed bugs by using agricultural or garden pesticides. Using outdoor pesticides to control bed bugs can make you or your family very sick.
Do no t use products that appear to be "homemade" or "custom formulated." Homemade products could be dangerous and they might make the problem worse.
Do no t use products that have labels in a non-English language
Do not apply pesticides directly to your body. This could make you very sick.
Do no t use rubbing alcohol, kerosene or gasoline. These chemicals may cause fires
Do not throw away your furniture. Beds and other furniture can be treated for bed bugs. Throwing away your furniture can spread the bugs and you have to buy new furniture.
Do not store things under the bed. Storing stuff under the bed gives bed bugs many new places to hide. This makes it more difficult to get rid of bed bugs.
Do not move things from room to room. Moving your things from the room with bed bugs to another room in your house may spread the bed bugs.
Do not wrap items in black plastic and place in the sun. It will not get hot enough to kill all the bugs.
Add Comments: