How Fast Bed Bugs Can Spread
Monitor the health of your community here
More Articles
How Fast Can Bed Bugs Spread?
Silent Pests
Bed bugs have been in the news in recent years.After decades in which they seemed to have been almost eradicated, these pests are making a comeback. This is bad news for humans. According to the College of Agriculture at the University of Kentucky, bed bugs require a "blood meal" to survive, and they prefer the taste of human blood to that of other warm-blooded animals. These miniature vampires typically strike at night while people are sleeping, making a painless bite and sucking several drops of blood. Not known to carry infectious diseases, bed bugs nonetheless can cause allergic reactions to their saliva, and their bites leave itchy blotches similar to mosquito or flea bites. Hiding in inaccessible places, spreading out to all areas of a building and able to go months without feeding if necessary, they are difficult to find and control.
Once an infestation is underway, the property owner faces a tough eradication process that will require the services of a professional exterminator.This must be done sooner rather than later because they are hardy and they spread very quickly.
Reproduction
In the outdoors, bed bugs infest nests of birds, bats and other animals.These flightless insects, which measure 1/4 inch at maturity, enter a house, motel or apartment building by hiding in luggage, clothing or fabric. Once in place, the bugs set about reproducing, which they can do with impressive speed. Female bed bugs lay between one and five tiny eggs per day. Hatchlings are no bigger than a poppy seed.Once hatched, according to the School of Public Health at Harvard University, a baby bed bug or "nymph" requires only a single blood feast to molt and move into its next stage of development, which occurs five times before adulthood.
The nymphs reach maturity in a month or more, depending on conditions such as temperature (bed bugs like it warm) and the availability of blood. Assuming an average daily production of three viable eggs, simple math would indicate that at the end of one week, a single female would lay more than twenty eggs. Some weeks later, given a steady blood supply, these 20 bedbugs are adults. If half of them are females and each one lays twenty eggs in a week, this means a second generation of nymphs numbering approximately 200, all of which come from just one female bed bug. The production of three generations of bed bugs in a year is not uncommon.
Locational Spread
Bed bugs can spread from one room or apartment to another through door frames, windows, or holes or cracks in the walls, ceilings and floors. They can contaminate wood furniture by laying eggs in cracks and recesses, and when that furniture is moved, these eggs (which can stay viable for years) may hatch in a new location. Weeks or months without blood do not harm these tough insects.As a result, if bed bugs are found, one should consult an exterminator immediately.
Bed bugs have been in the news in recent years. After decades in which they seemed to have been almost eradicated, these pests are making a comeback. Not known to carry infectious diseases, bed bugs nonetheless can cause allergic reactions to their saliva, and their bites leave itchy blotches similar to mosquito or flea bites. These flightless insects, which measure 1/4 inch at maturity, enter a house, motel or apartment building by hiding in luggage, clothing or fabric. Some weeks later, given a steady blood supply, these 20 bedbugs are adults.
Do Bed Bugs Travel on People?
Travel Tips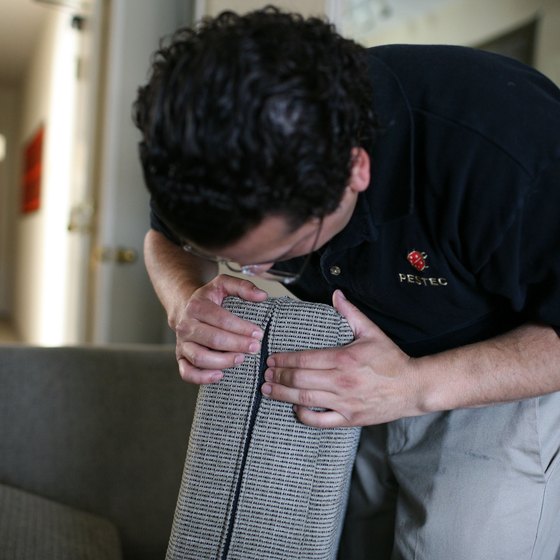 Believe it or not, bed bugs can travel via human hosts. (Photo: Justin Sullivan/Getty Images News/Getty Images )
Related Articles
They're creepy, they're crawly and they're often quite difficult to spot. Bed bugs – blood-sucking, tiny parasites that dine on human and animal hosts – have become a concern worldwide due to their stealthy ways of getting around. Unfortunately, the little critters are more mobile than we would like to think.
Bed Bug Bites and Basics
Bed bugs – named for one of their favorite hangouts – tend to be found in linens, between cracks in mattresses and even in cracks and crevices in the floor. They leech off their human or animal hosts, with bed bug bites leaving scabby trails of rashes and marks across the skin. Because they are mostly active at night, it can take awhile for a person to notice that his home or hotel room has bed bugs.
How Bed Bugs Spread
Not everyone is aware that bed bugs can be spread via humans: if a person goes to a hotel room that has bed bugs, and the bed bugs hide out on the person or on the person's luggage, the bed bugs can be spread to a new location. Because of this, no house is safe from a bed bug infestation. Bed bugs can spread from house to house, living in even the cleanest conditions; bed bugs are not a sign that a person's home is dirty or unkempt.
Looking for Bed Bug Evidence
If you suspect that your home has been hit by bed bugs, look for the following telltale signs: small scabs or rashes in a line-like pattern on your skin, small fecal droppings or small blood smears on your sheets. The bed-bug bites will most likely be across your face, arms, or legs – the areas that are not covered by your pajamas as you sleep. Remember, though, that not all people will develop a rash if being bitten. You'll also want to check for bugs in your mattress and in your luggage by closely inspecting them.
Eradicating Bed Bugs for Good
Though a variety of sprays and ointments are out there marketed as beg-bug killers, the truth is that many of these products do not work. You can attempt to rid yourself of these pests by vacuuming every inch of your apartment and by putting your linens in a dryer set on the highest setting. While it's rare to find bed bugs on the clothes you're wearing – they tend to fall off once you start moving – you should still wash any potentially contaminated clothing as well. A severe infestation will require the attention of a licensed exterminator; it can often take more than one visit from the exterminator to ensure that the bed bugs are really gone.
Disclosure
Leaf Group is a USA TODAY content partner providing general travel information. Its content is produced independently of USA TODAY.
Bed Bugs FAQs
What are bed bugs?
Bed bugs (Cimex lectularius) are small, flat, parasitic insects that feed solely on the blood of people and animals while they sleep. Bed bugs are reddish-brown in color, wingless, range from 1mm to 7mm (roughly the size of Lincoln's head on a penny), and can live several months without a blood meal.
Where are bed bugs found?
Bed bugs are found across the globe from North and South America, to Africa, Asia and Europe. Although the presence of bed bugs has traditionally been seen as a problem in developing countries, it has recently been spreading rapidly in parts of the United States, Canada, the United Kingdom, and other parts of Europe. Bed bugs have been found in five-star hotels and resorts and their presence is not determined by the cleanliness of the living conditions where they are found.
Bed bug infestations usually occur around or near the areas where people sleep. These areas include apartments, shelters, rooming houses, hotels, cruise ships, buses, trains, and dorm rooms. They hide during the day in places such as seams of mattresses, box springs, bed frames, headboards, dresser tables, inside cracks or crevices, behind wallpaper, or any other clutter or objects around a bed. Bed bugs have been shown to be able to travel over 100 feet in a night but tend to live within 8 feet of where people sleep.
Do bed bugs spread disease?
Bed bugs are not known to spread disease. Bed bugs can be an annoyance because their presence may cause itching and loss of sleep. Sometimes the itching can lead to excessive scratching that can sometimes increase the chance of a secondary skin infection.
What health risks do bed bugs pose?
A bed bug bite affects each person differently. Bite responses can range from an absence of any physical signs of the bite, to a small bite mark, to a serious allergic reaction. Bed bugs are not considered to be dangerous; however, an allergic reaction to several bites may need medical attention.
What are the signs and symptoms of a bed bug infestation?
One of the easiest ways to identify a bed bug infestation is by the tell-tale bite marks on the face, neck, arms, hands, or any other body parts while sleeping. However, these bite marks may take as long as 14 days to develop in some people so it is important to look for other clues when determining if bed bugs have infested an area. These signs include:
the bed bugs' exoskeletons after molting,
bed bugs in the fold of mattresses and sheets,
rusty–colored blood spots due to their blood-filled fecal material that they excrete on the mattress or nearby furniture, and
a sweet musty odor.
How do I know if I've been bitten by a bed bug?
It is hard to tell if you've been bitten by a bed bug unless you find bed bugs or signs of infestation. When bed bugs bite, they inject an anesthetic and an anticoagulant that prevents a person from realizing they are being bitten. Most people do not realize they have been bitten until bite marks appear anywhere from one to several days after the initial bite. The bite marks are similar to that of a mosquito or a flea — a slightly swollen and red area that may itch and be irritating. The bite marks may be random or appear in a straight line. Other symptoms of bed bug bites include insomnia, anxiety, and skin problems that arise from profuse scratching of the bites.
Because bed bug bites affect everyone differently, some people may have no reaction and will not develop bite marks or any other visible signs of being bitten. Other people may be allergic to the bed bugs and can react adversely to the bites. These allergic symptoms can include enlarged bite marks, painful swellings at the bite site, and, on rare occasions, anaphylaxis.
How did I get bed bugs?
Bed bugs are experts at hiding. Their slim flat bodies allow them to fit into the smallest of spaces and stay there for long periods of time, even without a blood meal. Bed bugs are usually transported from place to place as people travel. The bed bugs travel in the seams and folds of luggage, overnight bags, folded clothes, bedding, furniture, and anywhere else where they can hide. Most people do not realize they are transporting stow-away bed bugs as they travel from location to location, infecting areas as they travel.
Who is at risk for getting bed bugs?
Everyone is at risk for getting bed bugs when visiting an infected area. However, anyone who travels frequently and shares living and sleeping quarters where other people have previously slept has a higher risk of being bitten and or spreading a bed bug infestation.
How are bed bugs treated and prevented?
Bed bug bites usually do not pose a serious medical threat. The best way to treat a bite is to avoid scratching the area and apply antiseptic creams or lotions and take an antihistamine. Bed bug infestations are commonly treated by insecticide spraying. If you suspect that you have an infestation, contact your landlord or professional pest control company that is experienced with treating bed bugs. The best way to prevent bed bugs is regular inspection for the signs of an infestation.
This information is not meant to be used for self-diagnosis or as a substitute for consultation with a health care provider. If you have any questions about the parasites described above or think that you may have a parasitic infection, consult a health care provider.
How Quickly Do Bed Bugs Spread?
Posted by Paul J. Bello – Certified Entomologist on August 03, 2016
With bed bugs becoming a major pest problem in homes, hotels and businesses across the country, many people are curious about how quickly bed bugs spread. Bed bugs do not fly since they do not have wings. They are able to crawl and rapidly move short distances within an infected area, and slowly spread to other rooms in the home or business.
Another way bed bugs move around is by finding their way into purses, backpacks, suitcases, briefcases, clothing, and jackets. Bed bugs rely upon humans to help transport them to new areas and locations where they are free to set up and establish new infestations. In fact, these traveling methods are the number one way people introduce bed bugs into their homes.
Once brought into the home, bed bug infestations take time to grow before they become a major headache. If you were to bring home one single female who has already mated, the new visitor will start to populate the home with new bed bugs. She will lay about 100 eggs over the course of the first month. Since her laying is spread out, by the end of the month there will be roughly 50 or 60 nymphs (developing infant bed bugs) and 30-40 eggs waiting to be hatched.
By the end of the second month, the adult population will have grown to around 10 breeding adults with about 200 developing bed bugs in various stages, and numerous eggs. At this point, you should start to notice small reddish-brown color dots on your bedding and mattress, and you may start to see small dark specks of dirt, as well as other minute particles. Catching and controlling bed bugs at this stage is beneficial, as things start to get out of hand by the end of the third month.
The bed bug population explodes during the third month of infestation. By now the colony has grown to over 100 breeding adults, 1,000s of developing nymphs, and 400-500 eggs. In addition, some of the adult bed bugs will start to migrate to other rooms within the home, since they can survive for approximately 6 to 12 months without a meal. If left to continue to grow and expand, the bed bug colony starts to turn into a major infestation.
Within six months of introducing the original pregnant female bed bug into the home, you could be facing infestations in every room of the home. Populations by this point will have soared to well over 8,000 breeding adults, 100,000s of developing nymphs, and 50,000-60,000 eggs waiting to hatch. Knowing how bed bugs spread and populate new areas, you can clearly see why prevention and early detection are vital to keep your home or business bed bug free.
You can protect your bedding, mattresses, and box springs, as well as other furniture in the home, with special bed bug encasements. These protective barriers stop bed bugs from getting into your pillows, mattresses, box springs, and furniture should you accidentally introduce a bed bug into the home. For more information about the bed bug certified encasements and other waterproof and hypoallergenic mattress and bedding products, contact Mattress Safe® now at 770-205-5335.
Insects in the City
The best in science-based, pest management solutions from Texas A&M AgriLife Extension Service
Bed bugs and your apartment
Bed bug problems are becoming more common in apartment communities. More than ever, it's important for tenants and landlords to understand these insects and what it takes to eliminate them from apartments.
What are bed bugs?
Bed bugs are tiny insects that live by feeding on human blood, usually at night. They are secretive, hiding in cracks and crevices during the day, and coming out at night to feed. The bite of the bed bug is painless and may or may not leave a red mark or itchiness.
How do I know whether I have bed bugs?
Bed bugs are small, and come out mostly at night.
Because of their small size and painless bite, bed bugs may initially go unnoticed. If you notice that you are waking up with itchy welts, see tiny red spots on bedding, or think you have seen the bugs, you may have a problem. Bed bugs do not have nests, but will congregate in choice hiding places. These areas may be marked by tiny dark spots and stains, and may have a sweetish odor.
Will bed bugs hurt me?
Fortunately bed bugs are not known to carry any diseases to humans, although some people may experience irritation or allergic reactions to bed bug bites. Mostly bed bugs are considered disgusting and can be a source of stress and concern for people living in infested apartments.
How do bed bugs get into my apartment?
Bed bug in textured ceiling with droppings (upper right, lower right and lower left) around harborage between popcorn texture.
Bed bugs are no longer an unusual pest in apartments. Since approximately 2000, bed bugs have reemerged as an important pest in the United States. Bed bugs are occasionally introduced into an apartment via luggage that has become infested from a hotel or hostel. In apartment complexes, it is probably more common for bed bugs to enter a home from a nearby infested apartment, during moving, or through picking up used or recycled furniture or mattresses. Once introduced into an apartment building, bed bugs can readily spread from one infested unit to another.
What should I do if I suspect bed bugs?
If you think you see a bed bug, capture it if possible. Place in a leak-proof container, preferably with a little rubbing alcohol, and show it to your apartment manager to confirm its identity. Even if you cannot capture one of the insects, you should inform your building manager if you suspect you have a bed bug problem.
If I have bed bugs should my neighbors be treated too?
When beg bugs are found in one apartment unit, it is considered standard practice in the pest control industry to inspect all apartments surrounding the infested apartment. If no bed bugs are found, surrounding apartments do not necessarily need to be treated. But if an adjacent apartment is found infested, it should be treated and all adjacent apartments should also be inspected (see next question).
How do you get rid of bed bugs?
If you live in an apartment or condominium, it's best to alert the property manager right away (preferably by phone and in writing). In multi-family housing a manager-coordinated bed bug control effort using a pest control company is generally needed. Bed bugs readily move from apartment to apartment, with many people unaware that they have a problem, so chances are that you will not eliminate a bed bug problem by yourself. If one apartment is infested, adjoining units (left side, right side, above and below) should be assumed to be infested unless shown otherwise through inspection or monitoring.Simply asking tenants whether they have bed bugs is not enough. In one study only half of residents in a large apartment with bed bugs knew (or admitted) they had a bed bug problem.
Bed bug treatment consists of a thorough inspection followed by vacuuming and treatment of all detected bug hiding spots. Treatment is labor intensive and may take several hours per apartment. It will also probably require several visits and treatments to permanently get rid of a bed bug problem.
My landlord wants to treat the problem using in-house janitorial staff. Is this OK?
In Texas, multifamily housing, hotels, or any business providing lodging must be treated for pests by a licensed pesticide applicator. So unless the apartment employee who enters your home to control bed bugs is licensed by the Texas Pest Control Service, this would be illegal. Illegal activity by an unlicensed person includes the use of over-the-counter pesticides, heat treatment or any other non-chemical control methods–anything intended to control pests like bed bugs, cockroaches, mice, etc.
What's my responsibility?
Apartment with clothing and personal items bagged and ready for pest control.
As a tenant, your first responsibility is to report any suspected bed bug problem immediately. Once an appointment is made for your treatment, it will be your duty to prepare your apartment. The following tips will help your pest control service and YOU to get rid of bed bugs quickly.
Don't move any of your things to another apartment during or before the treatment. You might end up spreading bed bugs to the other apartment and may re-introduce bed bugs to your newly-treated apartment later, when you retrieve your belongings.
Pick up and double bag all loose items in bedrooms and other rooms to be treated. Clutter makes it difficult for maintenance crews to inspect all parts of your apartment, and gives bed bugs more places to hide. Before returning these items, follow your pest control company's instructions for cleaning and inspecting to make sure you are not returning bed bugs to the treated room.
Clothing that may be infested should be double-bagged prior to treating the room, and dis-infested before returning to the room. Recent research shows that dry cleaning, washing in hot water, or tumble drying for 30 minutes on high will kill all stages of bed bugs.
Even though bed bug treatments are mostly focused on bedrooms and living rooms, it's still a good idea to put away all food in the kitchen and dining areas, and cover tables, counters, etc. to protect from contamination. Although your pest control professional will be careful, and the chemicals used should pose minimal risks to people, this step will reduce your risk of unnecessary pesticide exposure and reduce costs for maintenance staff.
Unless you intend to get a new bed anyway, it's not very effective (or economical) to discard your mattress, box spring or bed. Instead, buy a good quality, bug-proof mattress encasement. Encasements are special sacks that fit over a mattress or box spring–usually to reduce allergens. The zippers onbed bug-proof encasementsare designed to be tight enough to prevent even the smallest life stages of the bed bugs from escaping. Also, truly bed bug-proof encasements are strong enough to prevent bed bugs from biting you through the encasement. A good encasement will trap all bed bugs in the mattress and box spring inside, and will be smooth on the outside, providing few places for bed bugs to hide. Sears, Target, Walmart and other stores may sell bed bug-proof encasements, but they can also be purchased online. Look online for different brands and reviews of mattress encasements, using the search term "bed bug mattress protectors".
Vacuum couches, chairs and recliners thoroughly before pest control service. Many bed bugs in apartments are found in couches and upholstered chairs. Double-bag and discard the vacuum bags in an outdoors dumpster immediately to avoid reintroducing or spreading any bed bugs caught in the vacuum.
Don't forget to empty drawers in nightstands and dressers next to beds prior to treatment. This will make it easier for the pest control company to inspect and treat these furniture items. Bag and clean or inspect these items according to the directions of your pest control professional before returning the items to the treated furniture.
It's essential to cooperate with management and with your pest control professionals to get complete bed bug control. Once established, bed bugs can be difficult to control, especially without the help of tenants like you.
For more information
For more information about bed bugs, including their biology and how to recognize them, see publication L-1742 Bed Bugs as well as the EPA website on bed bugs. If you live in a situation where professional pest control is not available or not being provided by management, see our publication on Do-it-yourself bed bug control (ENT-3012) for tips on controlling bed bugs. The fact sheet on How to Select a Bed Bug Control Provider (ENT-033) has special information to assist apartment managers in working with pest control contractors.
Add Comments: