How To Make Bed Bugs Stop Biting Me
How to Prevent Bed Bug Bites
Each of us needs a good night's rest to function properly the next morning. Naturally, the last thing one wants is to wake up with bed bug bites. In this guide, we shall discuss a few ways to prevent bed bug bites at home or when traveling or sleeping in infested hotels. We will also discuss a few natural ways to prevent bed bug bites and stop further scarring.
How to prevent bed bug bites at home
The best way to prevent bed bug bites at home is to eliminate these pests completely. To do so, one can use a number of methods and techniques. There are many efficient ways of killing bed bugs ranging from DIY (do-it-yourself) treatments to professional ones.
The natural DIY techniques include application of diatomaceous earth powders, CO2 traps, borax, and steam or heat treatments. These can get rid of the larvae, eggs and adult bed bugs slowly yet effectively.
One can also make a natural bed bug trap using sticky tapes to catch and eliminate the bugs.
It is important to vacuum the entire home and wash all bedding material and clothing in hot water laundry to kill all the larvae, eggs and adult bed bugs. This is an important step to prevent bed bug bites.
When using chemical treatments like sprays and powders, care must be taken not to spray them on electrical outlets or other electronic goods etc.
It is necessary to avoid picking up furniture from the curbside or garage sales etc as this is one of the most common ways of bringing in these unwanted pests into the homes.
How to prevent bed bug bites when traveling or staying in hotels
The last thing you want is an uncomfortable night due to bed bug bites when staying in a hotel. Experts recommend several tips to prevent bed bug bites when spending a night or two away from home.
As soon as you check into the hotel, stash the luggage in the bathroom (as this is the only place where bed bugs will not hide in).
Next, you must check the bedding by pulling back the linen and inspecting all areas behind the headboard.
Look out for red/brown stains which are the fecal matter or discarded exoskeletons of the bed bugs.
It is also important to check furniture, art frames and cushion seams in the hotels order to prevent bed bug bites when staying away from home.
Naturally, if you do see these tell-tale signs, you must call the hotel management and ask for another room or, better yet, move to another hotel.
How to prevent bed bug bites naturally and prevent further scarring
There are many natural, essential oils that can help relieve itching and pain associated with bed bug bites.
To prevent bed bug bites in the first place, you can even use certain organic soaps and lotions that help repel these pests. Bathing with chamomile soap or applying calendula lotion to the body can help prevent bed bug bites. These products are also gentle enough for use on baby's skin.
Witch hazel lotion and organic apple cider vinegar can also help prevent itching and pain on the affected region.
Lavender, rosemary, and eucalyptus oils can also be added to rubbing alcohol for spraying on headboards, mattresses and the legs of the bed to prevent bed bug bites.
If the bed bug bite marks are already present, ensure washing the skin with hot water to dry them out. Apply aloe vera gel or an anesthetic lotion immediately to prevent scarring.
Rubbing an ice cube on the skin can also numb the area to prevent pain and scarring.
If needed, take an antihistamine like Benadryl to prevent itching caused by the bed bug bites.
Bed bug infestation can be a pesky problem that can ruin a good night's rest. The best way to prevent bed bug bites is to ensure taking care of the infestation by using one of the bed bug elimination methods described on this blog.
Related Posts
How do Bed Bugs Spread and How to Prevent it People often wonder where bed bugs live, how they spread…
Bed Bug Bites vs. Body Lice Bites: How To Tell the… Bite marks on the body are the first sign of…
Bed Bug Bites vs Spider Bites – What is the Difference? Insect bites of various kinds are a common reason behind…
Got bed bugs?Here are 10 products that can help you get rid of and prevent them.
How to Prevent Bed Bug Bites
How to prevent bed bug bites. that's front and center in the mind of anyone dealing with the irritating little critters. Here are three strategies that work – and a few important warnings. While you may not be able to get rid of bed bug bites all together, there are certainly things you can do to reduce how often these buggers make a meal of you.
How to Prevent Bed Bug Bites by the Numbers
No calculator needed. The math is really simple.
Fewer Bed Bugs = Fewer Bites
Reducing your bed bug infestation is the most obvious way to prevent bed bug bites, even if it's not the easiest. The more bed bugs you can get rid of (or contain), the more you will prevent the bites. It's simple math.
Use the IPM (Integrated pest management) techniques laid out in the bed bug control section of this site. Follow the plan laid out by your exterminator. Or if you are going the DIY route (not recommended unless you have no choice), create your best IPM action plan using our step-by-step tutorial. All of the suggestions below are only effective as part of a coordinated plan to eliminate the bed bug infestation in your home.
How to Prevent Bed Bug Bites by Protecting the Bed
Regardless of whether you are working with an exterminator or not,the single best thing you can do to prevent bed bug bites is to protect your bed.
Encase your mattress, pillows and box spring in a good quality mattress encasement that is designed for bed bugs.The encasements trap the bedbugs that are living there and prevents them from biting you.It also makes it easy to spot (and kill) the ones that show up from other hiding places. Obviously, that also helps you accomplish bed bug bite prevention tactic #1 above. Nice how that works, right?
Also, use bed bug detectors/traps like the climb-up interceptors to catch 'em on the way up to the bed and on the way down. These won't eliminate your bed bug infestation on their own, but they will help protect you from being bitten.
Prevent Bed Bug Bites by Covering Up and Getting Tucked in Tight
Bed bugs typically bite on exposed skin, so wear pajamas with long pants and long sleeves if at all possible.Even if its late July and the heat index is 100. Crank up the A/C if necessary! The middle of a full-fledged bed bug infestation isnotthe time to be sleeping in your skivvies, or worse yet, your birthday suit!
Sleep under the covers and tuck them in tight.(Maybe that's where the old saying "sleep tight, don't let the bed bugs bite" came from?) Again, bed bugs have difficulty biting through fabric and are looking for exposed skin. So not giving them any skin to feast on is a solid strategy to prevent bed bug bites.
Note:This will really only work if you have properly protected the bed with mattress and box spring encasements.
Things That Will NOT Prevent Bed Bug Bites
Many people's first instinct is to move to another room to avoid getting bitten.BAD IDEA.They will follow you and you will just spread the infestation to other parts of the house. Bed Bugs are attracted to the heat of our bodies and the carbon dioxide we exhale, so they can find you – and they will – no matter where you go to try to avoid them.
Some people also believe that leaving the light on at night will prevent them from coming out.Unfortunately, this is a myth. While they are nocturnal and prefer the cover of darkness, they are blood thirsty and they will go to extremes if necessary to get their next meal. So leaving the lights on won't go a long way to prevent bed bug bites. See more bed bug control "DOs and DON'Ts" here.
A Few Words About Bed Bug Repellents
While it mayseemlike bed bug repellents are a logical way to prevent bed bug bites, in reality they do more harm than good.Repellents can be a bad idea for a number of reasons:
Many repellents you spray on your skin are not intended to be applied to skin that will be covered or left on for long periods of time (Read the label!)
You can't wear bug repellent 24 hrs a day. They'll just find you in the daytime in another part of the house (same logic as sleeping in another room applies here too)
Repellents that you spray on the bed may not be safe for you to sleep on (again, always read the label first)
Some people have recommended using a number of essential oils as a natural bed bug repellents. They may be a safer option and may work at preventing bed bug bites in the short-term. But again, that's not really going to solve your problem.
Notwithstanding the health and safety concerns, repellents are just going to drive bed bugs further into their hiding places – and they can live there for up to 18 months without a blood meal – so in reality, you are not really preventing bed bug bites. You are just prolonging your agony.
There's also one reason why it would be a good idea to just go ahead and "let the bed bugs bite". Ormore accurately(if you've protected the bed correctly), let themtryto bite.
You Need to Bait Them to Get Rid of Them
What? Let the bedbugs try to bite me?!That's right, and here's the reason why.
If you want to get rid bed bugs, you're going to have to draw them out and so they can meet their death on their way to you. Unfortunately, that meansyouare the bait. If you're using residual spray insecticides or bed bug dust (DE) they have to come in contact with it for it to kill them.
The bottom line is this. in most cases you are going to have to endure at leastsomebites for at leasta little whileto effectively get rid of the bed bugs. The trick is to make it as few bites as possible, for little time as possible.
There's no doubt about it – bed bug bites are a pain! So to ease your mind (and soothe your itch), here are some treatment tips for making your bed bug bites a little more bearable.
You are here:
What's Next?
Share This!
Get the 10-Minute Bed Bug Crash Course for FREE!
Enter your email address below, and I'll send you the link to download it for free right away! Want to know more about it first? click here
Check outourFACEBOOKpage!
You can also find the most recent content and news updates on the Bed Bug Answers blog.
Find what you're looking for fast using one of the search boxes below.
Search this site:
Search the web via Google:
FTC Disclosure:This site contains some advertising and affiliate links. That means if you click and/or buy through those links, the merchant may pay a small commission to support this site– at no extra cost to you.
Thanks!! Your support of this site is really appreciated 🙂 (See more details in the Disclosure Policy )
Shop for Bed Bug Products
Recent Articles
Bed Bugs Pest Control: You Must Plan for Success – Here's How
To get rid of bed bugs, pest control planning is a must. It's not a one-shot deal. No worries, making a bed bug pest control action plan is easier than you think! Just follow simple these steps.
Bed Bug Symptoms – 8 Signs of Bed Bugs You Need to Know
The first bed bug symptoms people often notice are bites, but they're not proof that's what you have. Learn the tell-tale signs of bed bugs and how to check for them.
Why I Love Bedbugger.com
Let me tell you why I love bedbugger.com so much and how you can get the most out of what it has to offer.
Bed Bug Fogger Alert: Don't Grab that Can Till You Read This!
A bed bug fogger (bug bomb) seems like a quick-fix for those nasty little suckers, right? WRONG! Here are 3 reasons they don't work and 5 ways they make things worse and prolong your agony.
FREE!Get the10-MinuteBed Bug Crash Coursee-book.absolutely free.J ust enter your details below and I'll send the link to your inbox right now.
How to make bed bugs stop biting me
Packing these foods could help keep your picnic safe.
Bug bites are annoying, there's no doubt about it — but they can also be dangerous. Summertime comes with its own list of unique hazards, and bug bites are one of them. Mosquitos carry diseases like Zika, and ticks are spreading Lyme disease more often than in previous years.
Plus, a maddeningly itchy bug bite can ruin a perfectly good barbecue. Who can enjoy the sweet taste of grilled corn and delicious frozen desserts while mosquitos have your skin under attack?
You remembered sunscreen. But in your haste to get ready for the day and to cook these summertime food favorites, you forgot bug spray. And many of the foods you're likely to eat can actually make you even tastier to mosquitos.
In some cases, though, enjoying your favorite foods can actually help to keep these pests at bay. None of these foods will work as well as real bug spray. Some of them are rumored to work, but science hasn't been able to confirm whether or not they're effective. But if you're in a pickle, they could help ward bugs away — or at least make youfeellike you're doing something to repel them.
There are number of things you can do to actually prevent bugs from feasting on you, like avoiding strongly scented lotions, soaps, and perfumes, wearing light-colored clothes, and most importantly, always using bug repellant. But none of these options are as enjoyable as eating. So if you're tired of being a buffet for bugs, here are some foods that may help ward off nature's pests.
Holly Van Hare and Naa Ako-Adjei contributed to this story.
Keeping Those Bed Bugs From Biting
Throughout my early childhood I was tucked into bed with a gentle admonition: "Good night, sleep tight. Don't let the bed bugs bite." Not that my parents or I had ever seen a bed bug or known anyone bitten by one.
But these days this old saying has resonance for many more people than in years past, including those who sleep in expensive homes and four-star hotels. Last month, a family living in a $3 million private house in Brooklyn discarded rooms' worth of furniture, the cushions carefully slashed and notes attached saying the pieces had bed bugs and were not safe to take.
Had this been the case 40-odd years ago when I became a New York homeowner, I might have had a hard time furnishing my rooms; most were decorated with foundlings, including cushioned chairs. In those days, street scavengers like me had little reason to worry about bed bugs.
But the bed bug problem has become so widespread in 21st- century America that The Journal of the American Medical Association published a clinical review in April, "Bed Bugs and Clinical Consequences of Their Bites," by Jerome Goddard, a medical entomologist at Mississippi State University, and Dr. Richard deShazo, an allergist at the University of Mississippi Medical Center.
A Growing Problem
Although this blood-sucking parasite has been around for thousands of years, it was mainly associated with impoverished dwellings and fleabag hotels. Now, as the authors pointed out, "international travel, immigration, changes in pest control practices, and insecticide resistance" have ganged up to create "a resurgence in developed countries," including the United States.
"Bed bug infestations have been reported increasingly in homes, apartments, hotel rooms, hospitals and dormitories in the United States since 1980," they wrote. Reported infestations in San Francisco doubled from 2004 to 2006; telephone complaints in Toronto rose 100 percent in six months during 2002; and the number of bed bug samples sent to authorities in Australia was 400 percent higher from 2001 to 2004, compared with the previous three years.
The critters can move easily from apartment to apartment through cracks in walls and floors. In the last fiscal year in New York City, a densely populated international destination with many people living in multifamily dwellings, bed bug complaints to the city's Department of Housing Preservation and Development rose to 8,840, nearly 2,000 more than in the previous fiscal year. And chances are, most residents of infested households, especially those in single-family dwellings, co-ops and condominiums, never complained to this agency.
There is some good news about bed bugs. The journal authors reported that although the insects have been blamed for transmitting more than 40 human diseases, "there is little evidence that such transmission has ever occurred."
The bad news is that even if bed bugs don't spread hepatitis or AIDS, they can engender feelings of shame and disgust, and they are difficult and often costly to eliminate.
Adult bed bugs are easy to see, but only if you look at the right time — during the night on or near a human target. They do most of their feeding around 4 a.m.
The insects resemble ticks. Before a blood meal they are about three-eighths of an inch long, reddish brown, with a long nose tucked under a pyramid-shaped head and chest. After feeding, they may grow to more than half an inch. But you are more likely to see their remains in the morning: tiny black specks of excrement or perhaps a blood stain on the sheet if the sleeper happened to land on a well-fed bug.
During the day, bed bugs remain in the dark, hidden in mattress cords, cracks and crevices of box springs or seams of upholstered furniture, in the backs of headboards or joints of wooden bed frames, under loosened wallpaper, or even behind picture frames over a bed — but almost always near where people spend the night.
Most people who are bitten by bed bugs do not react. Of the 30 percent or so who do, many mistake the small, pink, itchy bumps for mosquito bites, although people may become more suspicious and more sensitive with repeated bites.
People who are highly sensitive react with intense itching that prompts scratching and can lead to infections. One Brooklyn family did not know they were sharing quarters with bed bugs until a sensitive relative visited and woke in the morning with very itchy bites.
Still others may experience more extreme reactions, including asthma, generalized hives, and even a life-threatening allergy (anaphylaxis) that requires emergency treatment with epinephrine.
But most bed bug lesions can be treated with an anti-itch product like calamine lotion or a topical or oral corticosteroid and antihistamine. If bites become infected, a topical or oral antibiotic may be needed.
Prevention and Elimination
There is no effective repellent against bed bugs, so avoidance is the best protection. Resist the temptation to pick up discarded mattresses, sofas, cushioned chairs and similar furnishings that could harbor the bugs. If you can't pass up clothes left out for the taking, carry them away in a plastic bag and then either wash them as soon as possible in very hot water, place them in a hot dryer or have them dry cleaned.
The journal authors advise that "items purchased at garage sales and resale shops, especially mattresses, box springs and bedding, be carefully inspected for bed bugs before they are brought into homes."
It also helps to rid the house of clutter that can provide hiding places for the bugs. When traveling, check the bed for evidence of bugs before you get in. And when you return home, check your luggage for bugs that may have come along.
Home remedies — usually ineffective — are legion. One family tried standing the legs of their beds in dishes of mineral oil, which stained the floor but did not deter the bugs. The family ended up hiring a professional exterminator, which is often a more cost-effective strategy than do-it-yourself methods. After repeated treatments to the family's apartment and the neighbors', the exterminator now does routine maintenance.
Pesticide sprays are not recommended for use on bedding. More effective, though no bargain, is to encase the mattress and box spring in covers like those used against dust mite allergy. (They can be found for around $50 for a twin bed.)
Other remedies include high-suction vacuuming or heat or steam treatments of infested furniture, also best done by licensed professionals. If space and time are available, furniture suspected to harbor bed bugs can be placed in the sun for several days or out in the winter cold for about two weeks. The bugs can survive indoors for a long time without feeding, but when they are exposed to temperature extremes outside and have no food source, they die off or disappear.
Itchy in Your Bed Not Bed Bugs, What Could It Be?

Itchy In Bed Not Bed Bugs: What Else Could It Be?
After you have been bitten by a bed bug, the bites do not always appear right away. Sometimes it may even take a few days for you to notice any symptoms. Red, itchy bites on the arms and shoulders are usually the first sign that you have been bitten by a bed bug. However, itchy in bed not bed bug may also happen as some other conditions may also lead to similar symptoms.
Bed bug bites are in straight rows, rather than sporadically placed across the skin. They can also occur anywhere, but most commonly are found on the skin that is exposed while you are sleeping. If you do not notice any of these signs, it may be something other than bed bugs.
Itchy In Bed Not Bed Bugs: What Else Could It Be?
Scabies
Over the past few years the occurrences of scabies has grown. It is caused by a tiny, sometimes unnoticeable parasite mite that burrows under the skin. The burrowing causes severe itching very relatable to that of an allergy. These irritable areas can occur anywhere on the skin; however the mites prefer to burrow into the areas between fingers, nails, elbows and wrists. It is not uncommon to find them on the buttocks, belt line, penis, and nipple areas of the body. They like to be in warm, moist locations.
Symptoms:
The symptoms can take days to weeks to appear depending upon whether or not the infected person has had them before. The main signs and symptoms of scabies include:
A rash of little bumps in a line that look like hives, tine bites, or pimples
Sores are formed from constant scratching
Crusty spots on the skin from severe scabies called crusted scabies
All these symptoms cause severing itching. When you continuously scratch to relieve this itch you can develop an infection or even a life-threatening condition when the infection gets into the blood stream.
Treatment:
The good thing is that scabies is completely curable. It is easy to treat scabies with Permethrin, which is an insecticide that will kill the mites. An alternative treatment is using Malathion lotion.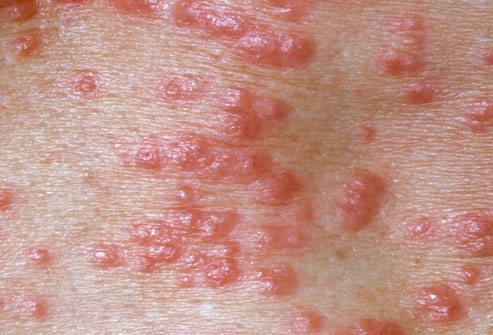 Dust Mites
For itchy in bed not bed bugs, the culprit could be dust mites. A tiny relative of the spider that lives on mattresses, bedding, upholstery, and carpets are dust mites. These insects feet on the flakes of skin that are left behind by people and pets. Warm humid locations are best for breeding dust mites. These tiny mites are also common causes of asthma and other allergies.
Symptoms:
Why am I itching like crazy? There are a wide range of allergy-like symptoms related to dust mites. Everything from sneezing, runny nose, hay fever, and sinusitis are all signs that you may have dust mites. Dust mites may also cause wheezing, persistent coughing, and/or a shortness of breath. On the skin you may even notice eczema and dermatitis. Those who are extremely sensitive to dust mites may even encounter joint pain, muscle aches, or swelling of tissues.
Treatment:
Using topical corticosteroids or an oral antihistamine will help ease the symptoms and give you relief from the itching. Antimicrobial therapy is another option for burrowing mites.
Mites that do not burrow may bite you and cause a similar reaction as those that do. You can use a topical corticosteroid or an oral antihistamine for these as well to control the pruritus.
Note:Avoid picking at and scratching your itchy, irritated skin. Doing so can cause permanent damage to your skin that leaves scars. If the itching does not stop with the above methods, you may need to visit a doctor for a stronger treatment.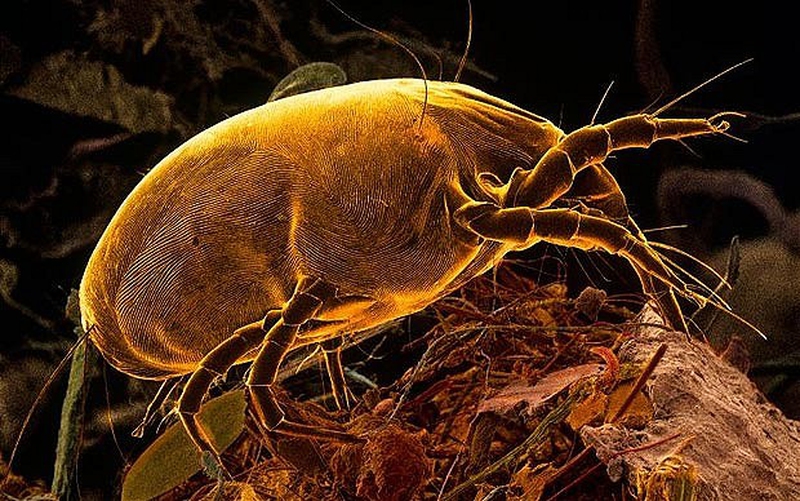 Flea Bites
Smaller than the tip of a pen, fleas are small black or brown bugs that cause a lot or irritation for both humans and animals, which could account for itchy in bed but not bed bugs. Although they are small, they move quite fast by jumping from place to place and are nearly impossible to get rid of without using a pesticide. Their bodies are extremely flat and take extra effort to effectively kill.
Symptoms:
Within hours of the initial bite, you will start to notice the symptoms of a flea bite. The symptoms include small rashes that may bleed at times, itchy skin, hives, and swelling. One answer to the question, "Why am I itchy in bed?" may be small groups of three to four bites around the ankles, armpits, and waist caused by fleas. You may also find that this rash turns white when you press on it and the more you scratch, the larger is gets.
Treatment:
Eventually flea bites will go away on their own. However, you can help relieve the symptoms with over-the-counter anti-itch creams and medications. The irritation will go away faster if you avoid scratching the affected area. If you do notice infections, white pockets, or the itching is not subsiding, you need to visit your doctor for medical attention.
The best way to stop flea bites is to kill the fleas. You can do this by treating your home, furniture, and pets with pesticides.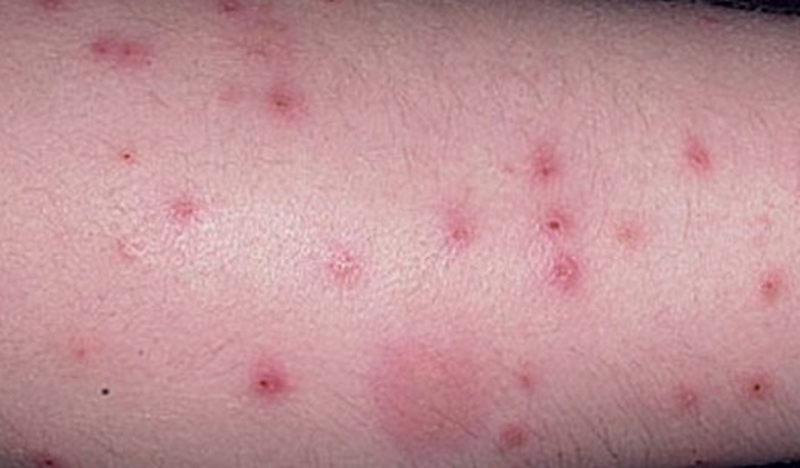 Allergies to Bedding Materials
Another reason you are itchy in bed not bed bugs is because you are allergic to the bedding materials. Many times the polyester and other synthetic materials can cause an allergic reaction. Even natural materials such as down feathers may cause allergic reactions that create the itchy sensation. Once way to avoid the itching is to purchase cotton, wool, and bamboo options within your home.
Add Comments: